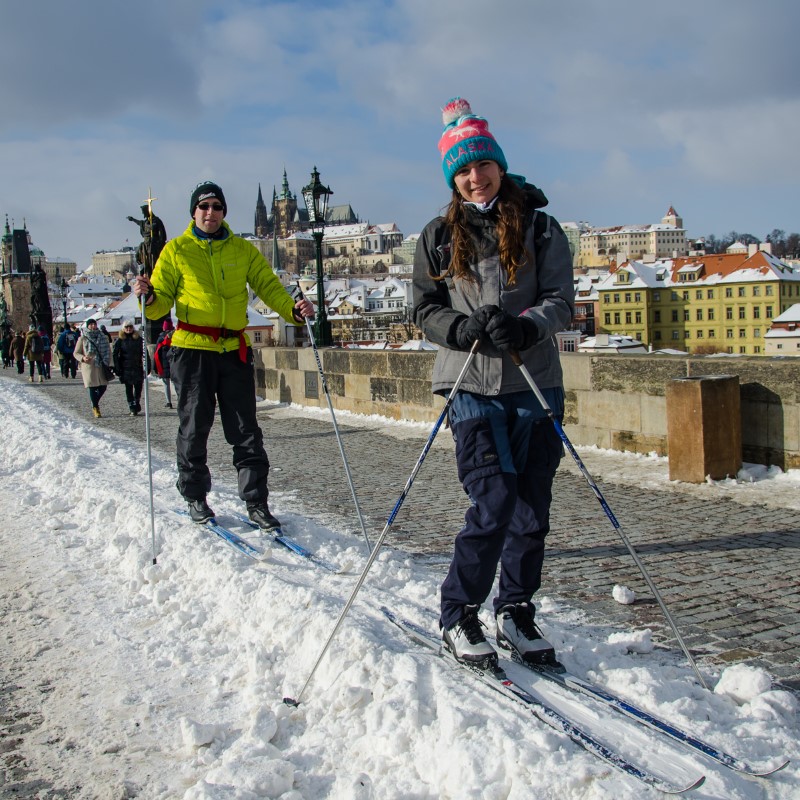 Written by local experts Adriana & Matěj
Adriana and Matěj Halouskovi are travel bloggers behind the successful blog Czech the World.
Matěj was born in Prague and has lived here his entire life and Adriana moved here 6 years ago.
We have traveled to more than 60 countries, but if we could tell you what place we know the most, it is our city.
Prague, the capital of the Czech Republic, is a city steeped in history and culture, offering a unique blend of the old and new. It's a must-visit for international travelers given its architectural marvels, fascinating history, and vibrant cultural scene. In this blog, we delve into 37 cool facts you might not know about this enchanting city.
The most interesting facts about Prague
1. The narrowest street in Prague is about 50 cm (20 inches) wide.
The nameless street leading from "U Lužického semináře" Street to the garden of the Čertovka restaurant, is so narrow that a traffic light needed to be installed. It stands as the last remaining fire alley in Malá Strana. It is the last remaining fire alley in Malá Strana.
Measuring a mere 50 centimeters (19.7 inches) at its narrowest point, this street stands as a quirky and delightful treasure that fascinates both locals and visitors alike.
In medieval times, this tight alleyway served as an access corridor to the branch of the Vltava River. Similar passageways were once plentiful in the capital, reflecting the architectural philosophy of the era: "The smaller, the better."
2. The Smallest House in Prague is only 2,25 m wide.
Located in Anežská Street, you can find the city's tiniest house. It measures just 2 and a quarter meters in width (88 inches). It was built in 1853 and designed by architect Josef Liebel. Once it served as a brothel. Nowadays, only the facade of the original dwelling remains, and it is an entrance to the inhabited rear section.
The alley in which the house is nestled once served as a secondary entrance to the courtyard of the U Křikavů house in Řásnovka. Over the centuries, this passage transformed into a residential space.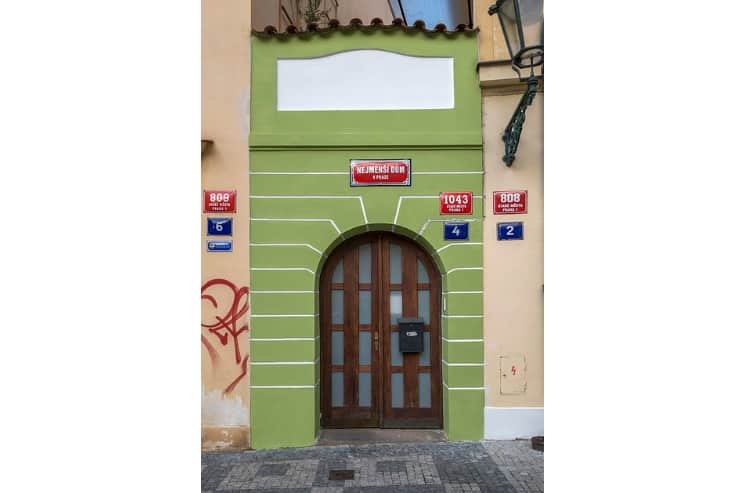 3. Prague has the Largest Castle Complex in the world.
According to the Guinness Book of Records, Prague Castle is the largest castle complex in the world. Its area covers nearly 70,000 square meters! The castle complex includes St. Vitus Cathedral, which is the largest church in the country, as well as many other palaces, religious structures, and buildings. This extensive collection of buildings was built over eleven centuries in various architectural styles – from the Romanesque style of the 10th century to the latest high-tech orangery by architect Eva Jiřičná in the Royal Garden.
4. Czechia has the highest consumption of beer per capita.
Prague could be easily called the beer capital of the world. Year by year, Czechs hold the title of the world's biggest beer drinkers. Last year, Czechs (including infants) consumed 138 liters of beer. That's 276 half-liter servings per year, so nearly a beer per day. And what's the reason? Maybe the fact that beer is an integral part of our culture, as well as its low cost.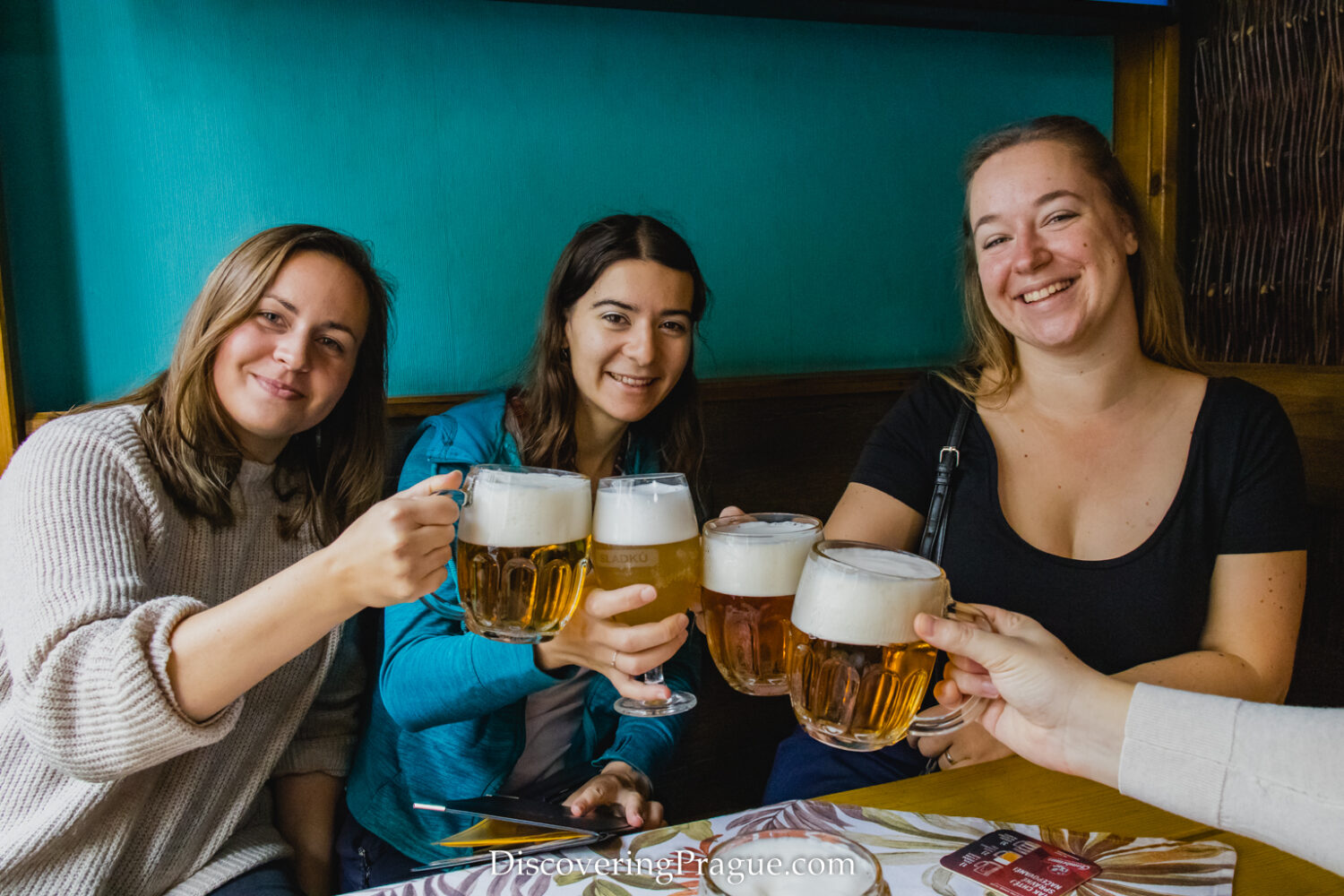 5. They had to pass a law stating that in a restaurant and pubs, at least 1 non-alcoholic drink must be cheaper than beer.
That speaks about our beer culture. I remember that when I was a kid, juice was always much more expensive than beer. And even though this law is already in effect, and one non-alcoholic drink on the menu is always cheaper, its content is often only 250 ml, while beer is served in half-liter portions.
We have a joke here – ordering a small beer is a burden for the waiter. And do you know what the biggest Czech lie is? "Let's go for one beer." (It is never just one).
6. You can visit the beer spa in Prague.
Czechs are crazy about beer, but did you know you can even visit a beer spa? Procedures often include unlimited consumption of beer but that's not it! Typically, a beer spa treatment involves soaking in a tub filled with a warm mixture of mineral water, hops, malt, and yeast – the key ingredients in beer. A warm bath is said to open up pores, improve blood circulation, and soothe muscles.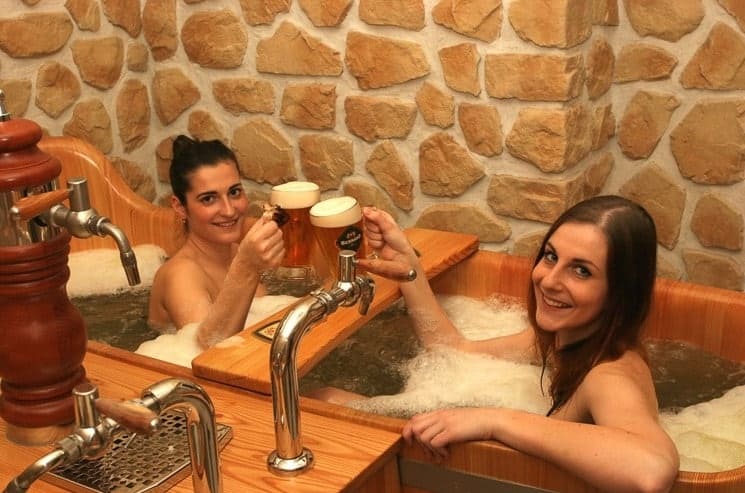 7. Horrifying legend behind the world's oldest moving clock
The Old Town Astronomical Clock, the third-oldest astronomical clock in the world, is a masterpiece of the early 15th century. The most famous legend speaks about its creator Master Hanuš, who was chosen to build a unique machine for Prague's city councilors. Fearing he'd build a similar machine for another city, they broke into his house and blinded him with a hot iron, yet he still managed to stop the clock. It took over a hundred years before it was started again.
What makes the Orloj clock truly unique is a display of astronomical information such as moon phases, zodiac signs, and mainly the animated procession known as "The Walk of the Apostles." Every hour, 12 apostle figures emerge from small windows above the dial, each symbolizing different virtues or representing biblical characters. Accompanied by melodious chimes, onlookers are captivated by this mesmerizing spectacle, transported back in time.
8. Prague has its little "Eiffel Tower" – Petřín Lookout Tower
The Petřín Lookout Tower is one of Prague's unmistakable landmarks. It was constructed as a free replica of the Eiffel Tower during the Jubilee Exhibition in 1891 (at a ratio of 1:5 to the original Parisian tower). It stands at a height of 58,7 meters and features 299 steps leading to its top, which sits at the same elevation as the actual Eiffel Tower. There is a beautiful view of Prague from the top.
9. The term "defenestration" originated in Prague.
Defenestration refers to the act of throwing someone or something out of a window. The term is derived from the Latin word "fenestra," meaning "window" and it was coined around the time of the Defenestration of Prague in 1618, which played a significant role in sparking the Thirty Years' War.
At that time, two Catholic officials were thrown out of a window of Prague Castle by Protestant nobles (they both survived the 20-metre (68-foot) fall out of the window). This was done in "good Bohemian style", referring to the defenestration which had occurred in Prague's New Town Hall in 1419.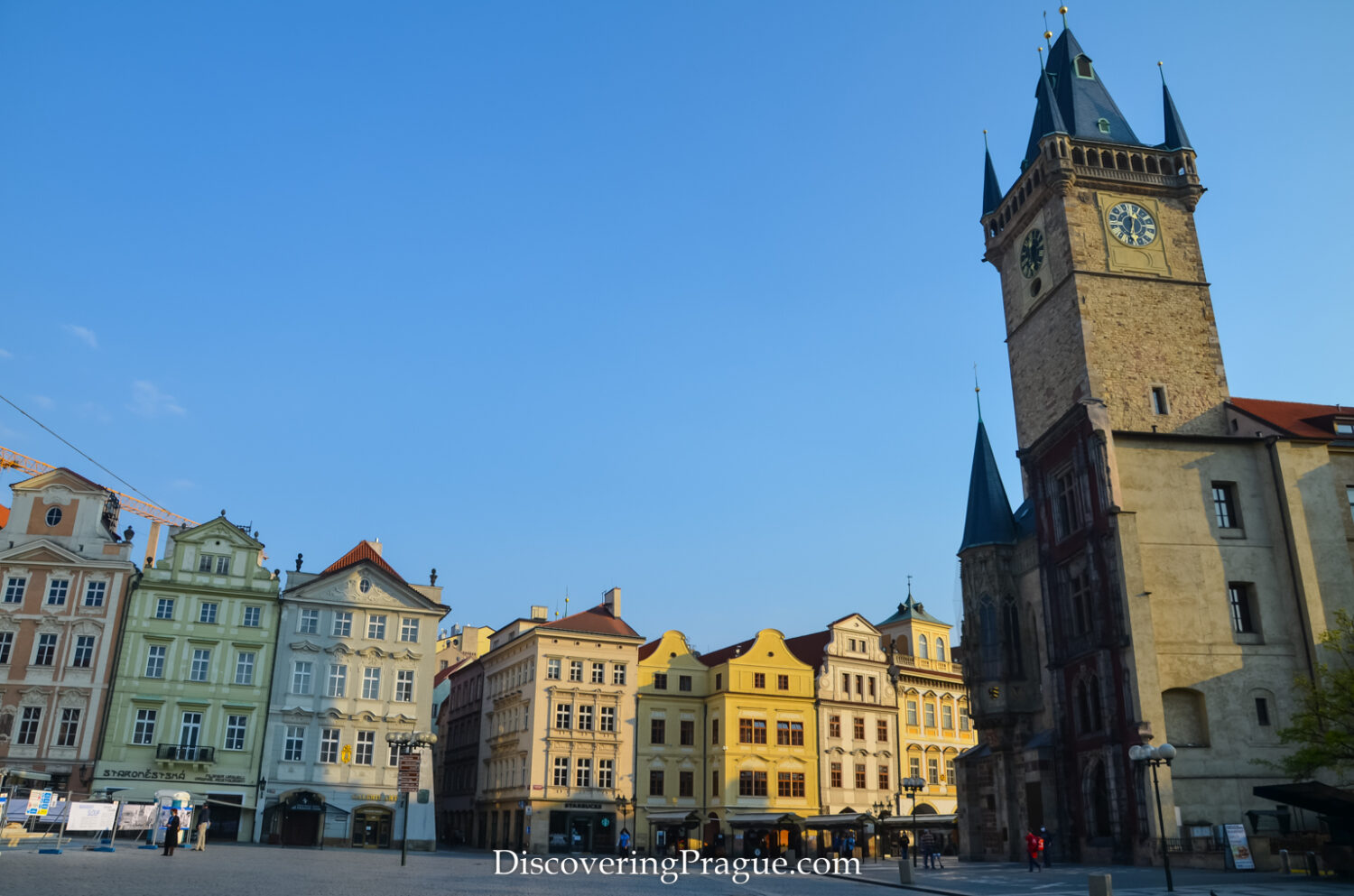 10. Prague has its Dancing House (Tančící dům)
The Dancing House, also known as the "Ginger and Fred" is a modern architectural marvel designed by architects Vlado Milunić and Frank Gehry, resembling a pair of dancers.
Completed in 1996, the Dancing House's design was inspired by the famous dance duo Fred Astaire and Ginger Rogers. The building stands out as a contrast to the historic architecture that dominates the city. You can find there a gallery, offices, a restaurant, and even a rooftop terrace offering panoramic views of the city. It is located at Jiráskovo nám. 1981/6.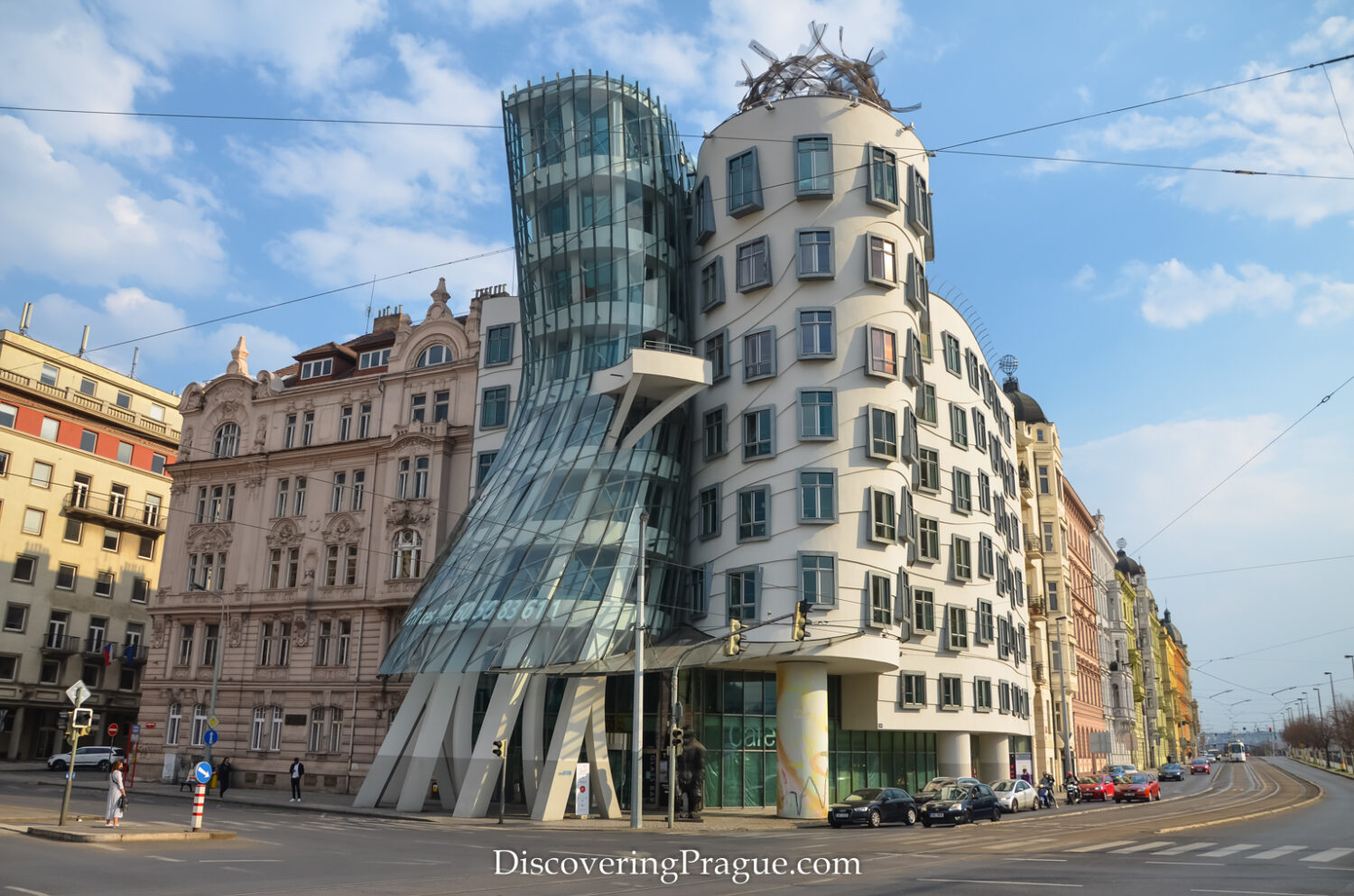 Fun facts about Prague:
11. Prague boasts the highest pub per capita ratio in the world!
Prague takes the crown with its impressive record of having the highest pub per capita ratio in the world! Its pubs reflect its rich history and brewing traditions, ranging from historic breweries to trendy craft beer bars. Exploring this diverse scene provides an opportunity to immerse oneself in local customs and savor unique flavors. Beyond quenching thirst, they serve as social hubs where people come together.
12. Upside-down horse sculpture
David Černý's Upside-down Horse sculpture in Prague symbolizes rebellion and social commentary, depicting Saint Wenceslas riding an upside-down dead horse. Unveiled by Černý, it has become an integral part of Prague's art scene, serving as a reminder to question established narratives and engage with Czech history.
The sculpture can be found at Pasáž Lucerna, Vodičkova, 110 00 Nové Město.
13. Trdelník is not originally from Prague.
Trdelník, a popular pastry often associated with Prague, is not originally from the city. Despite its widespread popularity in Prague's streets, the origins of this sweet treat can be traced back to Transylvania (in present-day Romania). The traditional recipe for Trdelník was brought to Czech lands by Hungarian-speaking immigrants around the 17th century.
Trdelník was baked only for festive occasions, and we (Czechs) usually eat it only at Christmas markets. And if you want to eat it traditionally, don't order Trdelník with ice cream or Nutella. The typical Trdelník has 2 holes, and it is served with sugar and cinnamon.
Ice cream was added lately, and it is just a marketing of last years…and also a way to make more money.
36. Once a year you can go partly underground kayaking on the Botič River
The Botič is only passable once a year, so its passage is a popular event not only for paddling enthusiasts, but it is also an interesting spectacle for spectators. At the very beginning of the stream, a two-meter-wide pipe leads from the spillway. "It is not necessary to go through this pipe, it is only for brave paddlers. About half the boats that have ventured into the pipe have also capsized in it. Throughout the course there were obstacles of varying difficulty – for example, low footbridges and bridges, several weirs and tunnels," Jan Šup described the pitfalls of the Botič descent.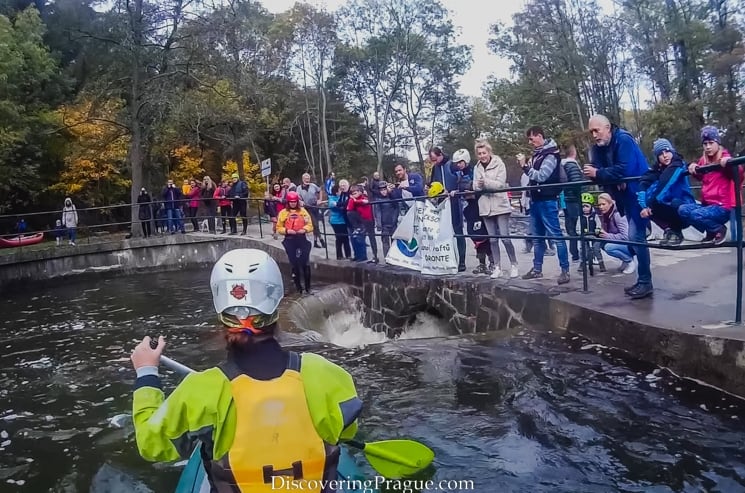 Historical and Cultural Facts:
14. The Mystical Inauguration of Charles Bridge
One of the most fascinating historical facts about Prague is the official inauguration of Charles Bridge on July 9th, 1357, at 5:31 AM. King Charles IV chose a numerical sequence, known as a palindrome (1-3-5-7-9-7-5-3-1, representing year-day-month-time), to infuse cosmic harmony. This demonstrates superstition and mysticism within his rule. Today, the bridge is adorned by statues of saints and religious figures.
One more interesting fact: Charles Bridge used to be the only means of crossing the Vltava River until the mid-19th century.
15. Klementinum – the oldest meteorological station in Prague
Prague's Klementinum houses the oldest meteorological station in existence, established by the Jesuits in 1752 and diligently collecting weather data for centuries. It stands alongside modern instruments to measure atmospheric conditions such as temperature, humidity, wind speed, and precipitation, contributing to global meteorological research. Its vintage gauges and antique maps on wooden-paneled walls offer visitors an old-world charm. It's a living museum dedicated to both science and history.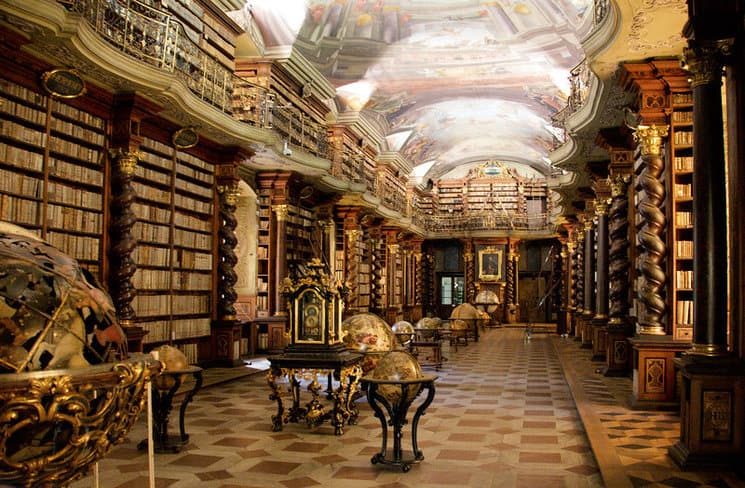 16. Prague is dubbed as 'the Hollywood of Europe.'
Prague is known for its thriving film industry and its iconic Barrandov Studios. Founded in 1931, the studio complex spanning hectares has hosted numerous international productions, including Casino Royale (2006), Mission Impossible (1996) and Amadeus (1984).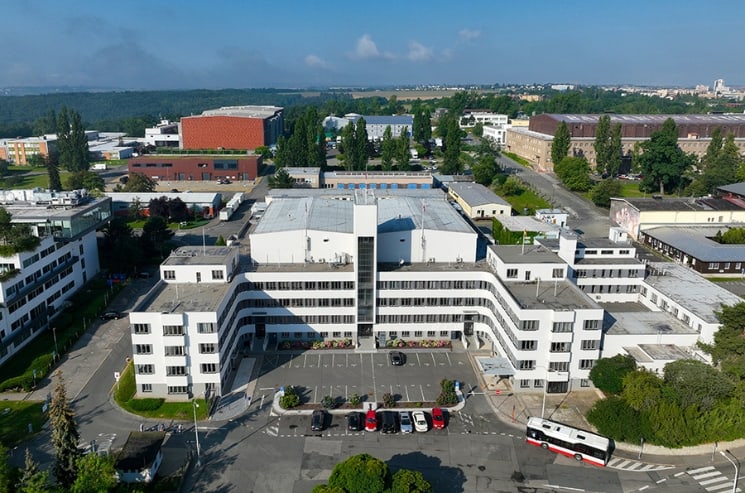 17. The Infant Jesus of Prague is famous for its numerous miracles and pilgrimages.
The Infant Jesus of Prague is an iconic religious sculpture crafted from wax in the 16th century. Standing 18 inches tall, it is renowned for its intricate details and serene expression and is housed in the Church of Our Lady Victorious in Mala Strana. It is revered as a powerful intercessor, known for answering prayers and fulfilling wishes, and is seen as a symbol of hope and unity among Christians worldwide. Replicas of the statue are found in churches across different continents.
18. The City of Hundred Spires
Nicknamed "The City of a Hundred Spires", Prague has an impressive abundance of spires and towers (500-1,000, excluding the smaller ones). From Gothic cathedrals and Baroque palaces to Renaissance townhouses and Art Nouveau masterpieces, the city's architectural splendor makes it a haven for photography enthusiasts.
19. The Lennon Wall – a symbol of peace and freedom during the communist era
The Lennon Wall holds a significant place in the city's history as an enduring symbol of peace and freedom. Since 1980 it gained international attention when it became adorned with vibrant graffiti and lyrics inspired by John Lennon, a renowned advocate for peace. Despite attempts by the authorities to suppress these expressions, the wall became an emblematic icon representing resilience against oppression and yearning for liberty throughout Prague's turbulent past.
20. Charles Square was the largest town square in Europe in medieval times.
Charles Square, originally known as Cattle Market, served as a hub for both locals and visitors and was renamed after King Charles IV in recognition of his contributions to Prague's development. It is the largest square in the Czech Republic even these days and one of the biggest in Europe. It spans an impressive 80 550 meters.
Nowadays, the largest part of the square is a park with 7 sculptures and a baroque fountain.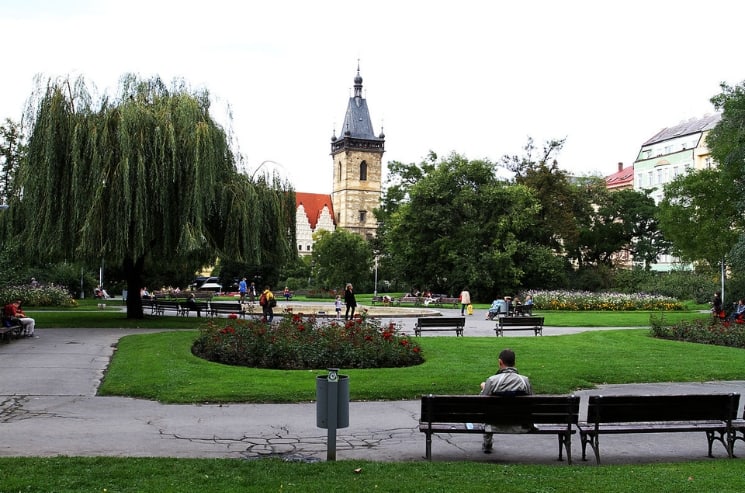 21. Prague hosts Europe's oldest active synagogue
The Old-New Synagogue or Altneuschul, is a magnificent Gothic-era architectural gem in Prague. With its twin-nave design, captivating stonework and spires, stained glass windows, wooden pews, Torah scrolls, and rose windows, worshippers experience reverence and grandeur. It has witnessed pivotal moments in European Jewry's turbulent history, providing sanctuary in times of religious oppression.
22. There are over 250 bridges in Prague.
There are over 250 bridges, footbridges, footbridges, or viaducts in Prague, 18 bridges cross the Vltava River, 11 of which are road bridges, four railway bridges, two pedestrian bridges, and one tram bridge. The shortest bridge in Prague over the Vltava River is the Čechův most with 169 meters, and the longest with 1110 meters is the Negrelli viaduct.
23. Prague boasts the largest nightclub in Central Europe
Karlovy lázně is the largest nightclub in Central Europe. It's situated right at the end of the Charles Bridge, and the building that houses it dates back to the 14th century. The club has five different floors, each with its own style of music, making it a great spot for people of all musical tastes.
24. The Golem Legend
According to a Jewish legend, Rabbi Loew created a Golem out of clay to protect the Jewish community of Prague. Inscribed with sacred Hebrew letters, this mythical being was said to possess immense strength and loyalty. Word spread of this supernatural shield, giving hope to many Jewish residents. Though its mission was noble, controlling the Golem was challenging even for Rabbi Loew. This legend not only symbolizes faith but also resilience in times of adversity, still shaping Prague's cultural identity today.
25. The longest panel building in Czechia is in Prague's Bohnice
Some tourists come to Prague not only to see the beautiful historic buildings but the brutal communist architecture like old and quite ugly blocks of flats. The longest panel building in the Czech Republic stands in Prague's Bohnice – in Zelenohorská Street. It measures an impressive 300 meters and has 18 entrances. More than 1,000 people live in 400 housing units. A single building could fit a large village or a small town.
26. Prague is the 13th greenest metropolis in the world.
According to the HUGSI index, green space in Prague covers approximately 56% of the total area of the city. Of this, 28% are tree areas, 27% grassland, and 1% water areas. Moreover, it is interesting to note that the index does not include some of the less urbanized outskirts of Prague in the urban area on which it is based. In fact, the entire capital has an area of 496 square kilometers, while the HUGSI index only takes into account 408 kilometers.
27. The Estates Theatre (Stavovské divadlo) hosted the premiere of Mozart's opera "Don Giovanni."
If there is still a place in the world where Mozart personally premiered one of his operas and where theatre is still performed today, it is only the Estates Theatre. It was on 29th October 1787 when Mozart conducted the premiere himself.
28. Prague is at the same latitude as Vancouver.
Prague, surprisingly shares the same latitude as Vancouver, a vibrant city on the west coast of Canada. While both cities are situated approximately 50 degrees north of the equator, their climates, cultures, and landscapes differ significantly. Prague boasts a temperate oceanic to humid continental climate with hot summers and chilly winters, reflecting its Central European location. Vancouver, on the other hand, experiences a temperate oceanic climate with milder winters and cooler summers due to the Pacific Ocean's influence.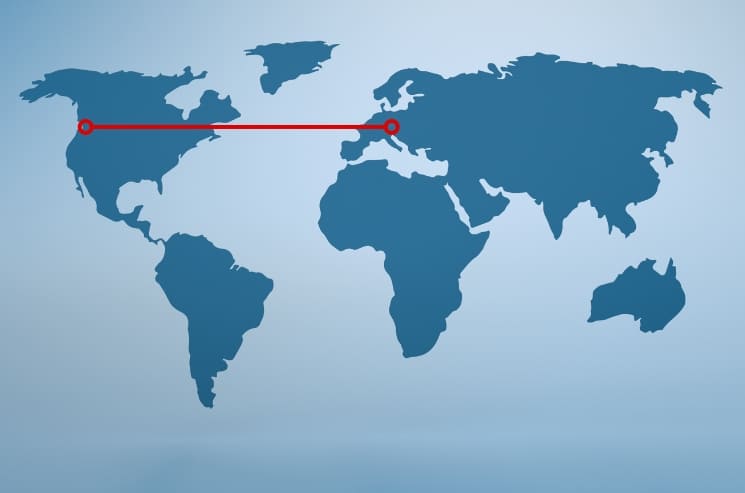 29. The Prague Tram System is one of the oldest in Europe.
Tramway transport in Prague has been operating since 1875, when the first horse-drawn tramway line started operating. František Křižík's first electric tram followed in 1891. The city began operating its own railways in 1897 and by 1907 had bought all the railways from the existing operators.
30. The Prague Metro is known for its artistic station designs, with each station having its unique theme.
The Prague Metro stands out for its captivating and visually striking station designs, making each stop an artistic experience in itself. Each station boasts its own distinctive theme, adding to the overall charm and allure of this underground transportation network. From vibrant mosaics that depict Czech history to contemporary installations showcasing local artistry, visitors are treated to a delightful visual journey as they navigate through the city's subway system.
31. At Kampa, you can encounter giant faceless babies.
The 350 cm long and 260 cm high sculpture by David Černý was originally created for an installation at the Museum of Modern Art in Chicago. Later it appeared on various buildings around the world, for example in 1999 it was placed under the auspices of the Czech Centre in London on the Czech Embassy building.
Since 2001, a total of 10 laminated babies have been on the Žižkov transmitter.
Since 2008, 3 bronze babies have been permanently placed in the park next to the Kampa Museum.
32. "Father" of the word ROBOT lived in Prague.
The most famous Czech word, which has been domesticated in all world languages, is "robot". The word was coined by Josef Čapek when Karel Čapek consulted him on how to name the artificial workers in his new play. The word "robot", first used in the play R.U.R., was actually coined by Karel's brother Josef. The word comes from the word "robota" – work.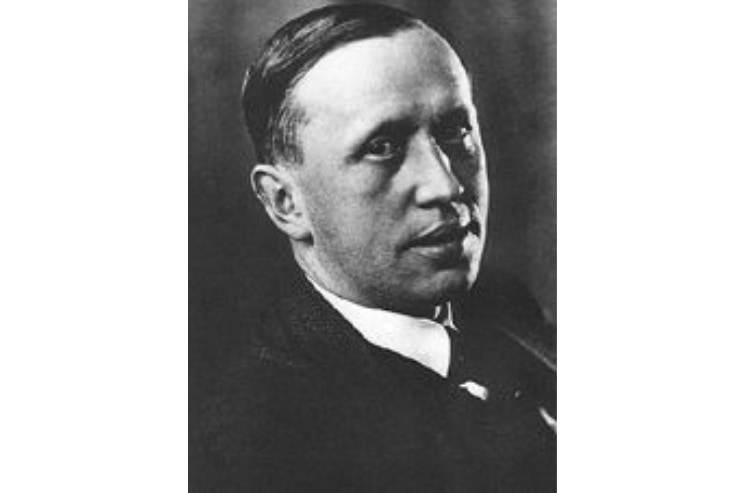 More Fun Facts about Prague:
33. Prague has Museum of Medieval Torture Instruments
In the reconstructed cellars in Celetná Street in the center of Prague there is a unique exhibition of torture law and torture instruments. Around 100 exhibits and dozens of period engravings are displayed on an area of 400 m².
The mystical atmosphere of the whole exhibition is completed by wax figures placed in an authentic environment, sound, and especially two special audiovisual effects (the burning of a witch and the execution by sword) which enhance the unique experience of visiting the cellars and the whole exhibition.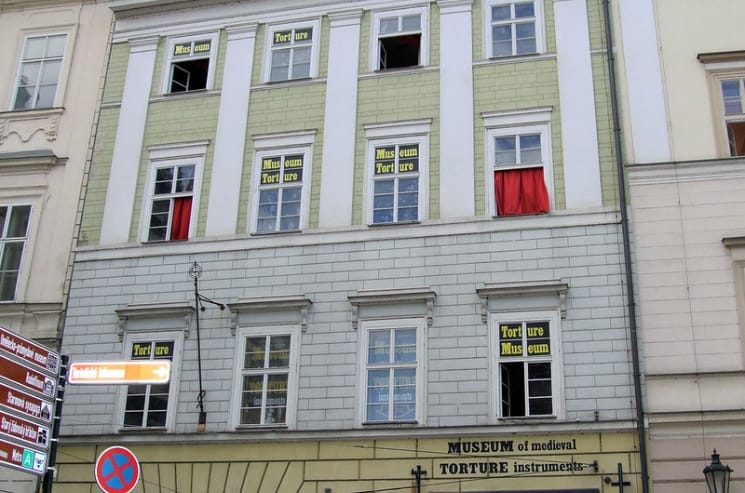 34. Locals love Escape rooms
Escape Rooms in Prague offer an immersive & thrilling challenge, with a range of themes from historical to modern. Intricate details, props, decorations, and sound effects all add to the experience, making them great for bachelor(ete) parties or friends visiting Prague!
One of the bests are these two: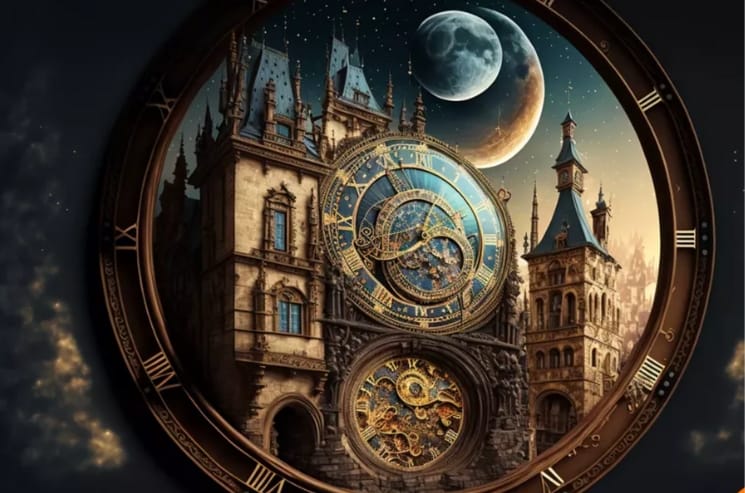 35. Some souvenir shops in Prague are selling typically NOT Czech souvenirs
As Czechs, we are extremely allergic to souvenir shops that sell Russian dolls (Matriošky). It is NOT a Czech thing, and it never was. It is a symbol of the country that was occupying us and now it is terrorizing Ukraine. And it is not a problem with these dolls only, you can find even hats with Soviet symbols which is terrible.
37. Prague ranked 11th fittest city in the world
The citizens of Prague are renowned for their beer appetite, yet the city was still ranked 11th in the world for its citizens' fitness level according to a 2021 Reebok study.
In conclusion, these 37 cool facts about Prague only scratch the surface of what this magical city holds! We encourage you to step off the beaten path during your visit and discover its rich history, vibrant culture, and modern ethos firsthand! From historical intrigue to thriving modernity, it's clear that Prague truly has something for everyone!
Pin this for later or for your friends: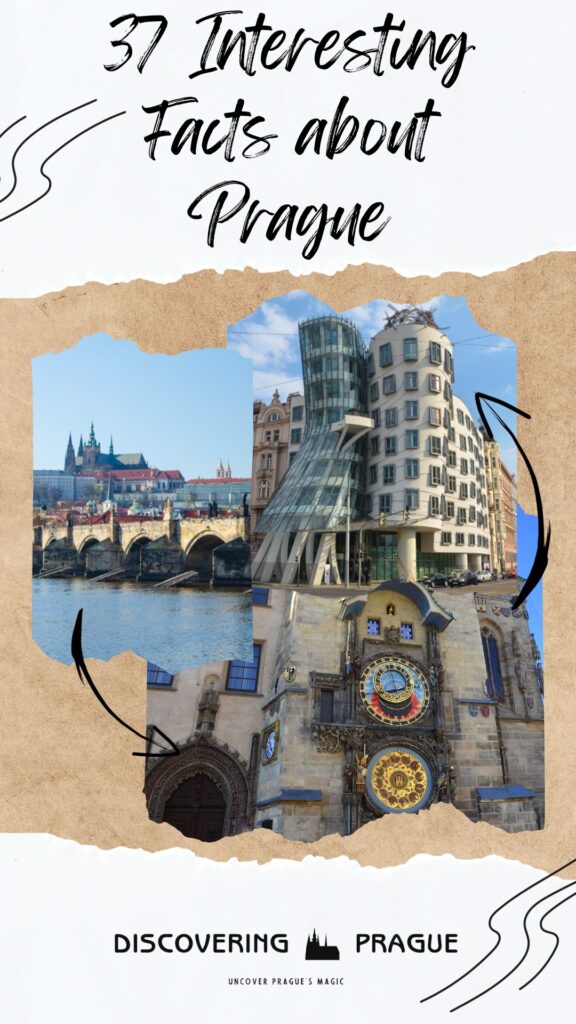 FAQ – frequently asked questions:
Did this post help you? Share it with your friends! It can help the