Welcome to the land of history, castles and chateaus, beer, wine, and folklore. The Czech Republic has a lot to offer, especially if you enjoy historic cities with Gothic and Renaissance architecture. Prague belongs to one of Europe's most fascinating cities but not only the ancient capital is worth visiting. We will guide you to other cultural gems, small towns, castles and beautiful mountains. Let's have a look at the best places to visit in the Czech Republic, our homeland.
This guide was written by us – locals, who have been living in the Czech Republic for our entire life because we have found many other guides on the internet written by foreigners, where there are misleading pictures from different places or they recommend places, which are totally not worth visiting and on the other hand forget to write about some great places.
We have divided these best places to visit in the Czech Republic into several categories – Top 10, Castles and History, Cities, Nature, Culture and Traditions, Other UNESCO sites. If the place is listed in the Top 10 section, it's not listed again in another category (e.g. Prague is not in the best cities).
TOP 10 Places to visit in the Czech Republic
Let's begin our list with the Top 10 Places to visit in the Czech Republic. The First 3 places are a must-see, even if you are in Czechia only for a few days. In case you have more time, have a look at what else to visit in our beautiful country.
1. Prague – The Capital of the Czech Republic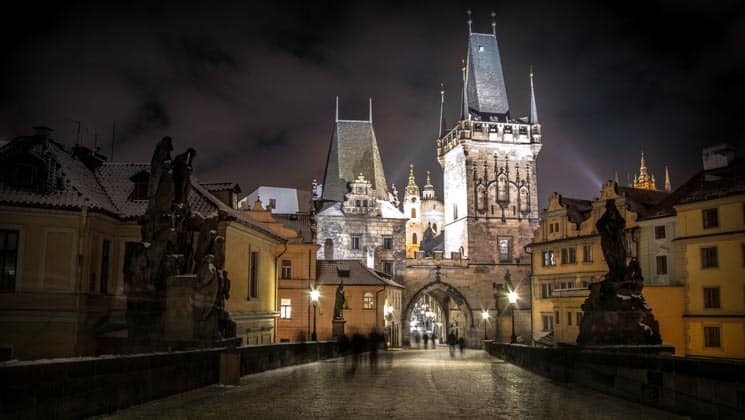 Prague is probably the first place you visit in the Czech Republic. It's a historical charming city of hundreds of spires. Make sure to stay here at least for 2 days because there is a lot to explore: from Prague Castle (the largest castle complex in the world), famous Charles Bridge, magnificent Old Town Square to fascinating Astronomical Clock, to National Theater or modern Dancing House. Get lost in Prague streets and discover the Gothic and Baroque architecture of old buildings and hundreds of churches. You will find many things to do and places to see in Prague, with dozens of galleries and museums. Prague also hosts fantastic nightlife.
Public transportation is cheap and easy to find. Bus/tram/metro connections can be found here. If you are flying in, read this Prague Airport guide.
2. Karlštejn Castle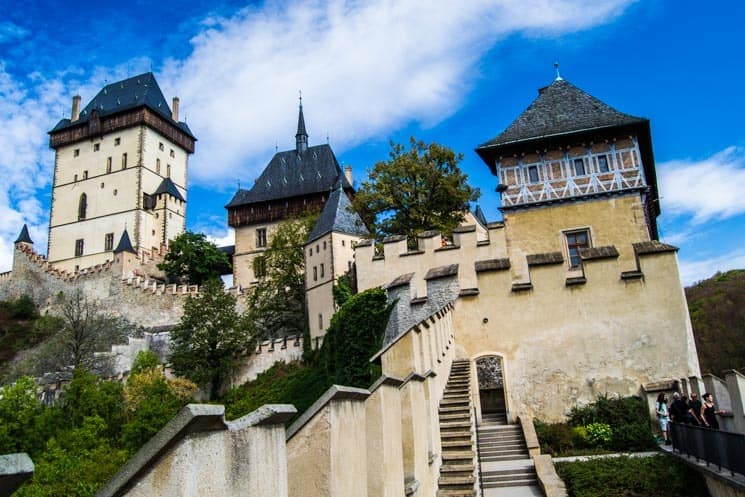 Karlštejn – a majestic Gothic castle, strategically placed on a hill overlooking the beautiful forests, should be very high on your list of places to visit in the Czech Republic. Karlštejn is our most visited castle. It holds an exceptional position among Czech castles. It was founded 1348 by the Czech king and Roman Emperor Charles IV. as a private residence and a safe place for the crown jewels of the Holy Roman Empire.
Karlštejn can be easily reached from Prague by train in only 40 minutes. To find out more information about the castle and how to get there, read this Insider's guide to Karlštejn Castle.
3. Český Krumlov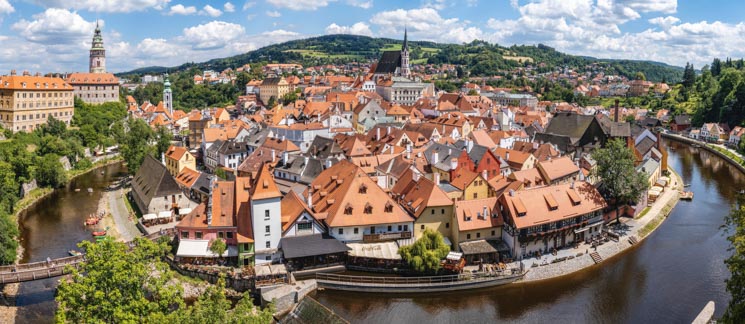 Český Krumlov is a picturesque town in South Bohemia. Jewel of the town is a Renaissance Castle of Český Krumlov which is listed in the UNESCO World Heritage Site. It is unusually large for a town of its size (2nd largest castle complex in the Czech Republic). Castle is overlooking the beautiful meanders of the Vltava river, which is a popular place for summer canoeing. The old town is full of colorful houses, situated mostly within a horseshoe bend of the Vltava river and "Latrán".

Once you are in Český Krumlov you can also visit Graphite Mine, watch a play in revolving auditorium or go canoeing through the 4 Krumlov's cascades.

There are bus connections to Český Krumlov from Prague.
4. Kutná Hora
Kutná Hora is another lovely town on the UNESCO list. It's known as the city of silver (because of rich mining history) and it's also called the national treasury. Symbol of Kutná Hora town is the late Gothic Cathedral of St. Barbara. The cathedral is stunning but if you want to visit a bizarre place, go to the former Cistercian Abbey in Sedlec. There is a Church of the Assumption of the Virgin Mary and St. John the Baptist with the world-famous Ossuary with decoration from human bones.
Kutná Hora is located about 80 km from Prague and you can easily get there by train in about 1 hour, the bus takes a little bit longer.
5. České Švýcarsko (Bohemian Switzerland National Pak)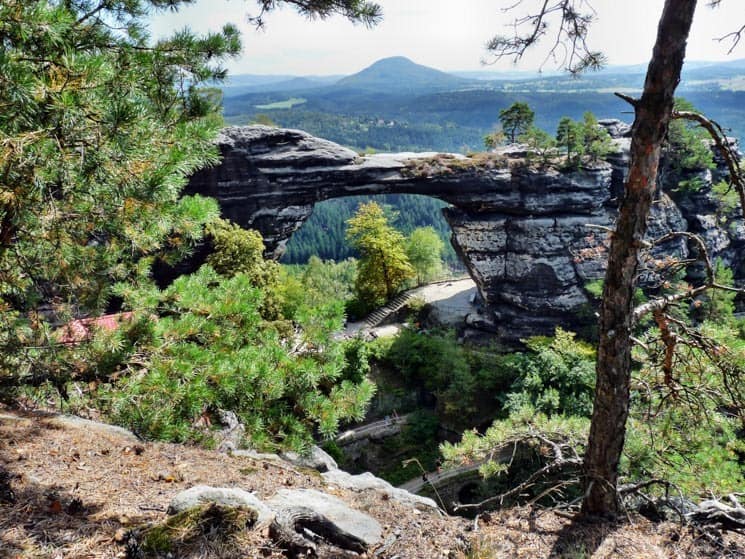 All nature lovers shouldn't miss Bohemian Switzerland – beautiful National Park in the north-western part of the Czech Republic. You may recognize the symbol of Bohemian Switzerland – Pravčická brána, which is the largest sandstone arch in Europe and where many movies were shot. It is a land of deep pine forests, valleys, mystical rock cities with towers, gates, walls, and labyrinths.
Once you are there, visit also gorges nearby Hřensko (Edmund's and Stille Gorge) at Kamenice river, rock labyrinth Tiské stěny or Šaunštejn rock castle.
You can get to Bohemian Switzerland by public transportation in 2 hours from Prague.
6. Adršpašsko-Teplické skály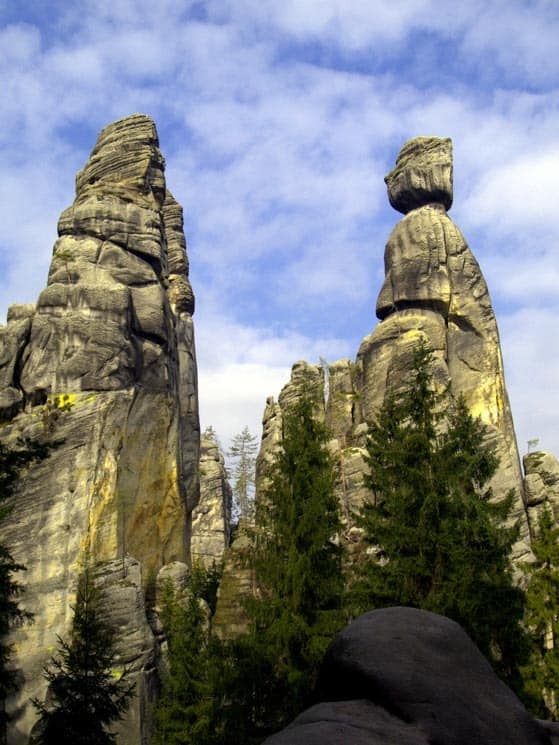 The natural protected area between Adršpach and Teplice has 17 km2 of wonderful rock formations creating a very unique rock city. Sandstone pillars are a very popular destination not only for rock climbers. You can just go for a walk, squeeze through gorges or take a boat ride that passes between the sandstone cliffs. There is a little fee to enter the Adršpach-Teplice Natural Reserve and the Reserve is open every day from 8 AM.

Adršpašsko-Teplické skály are located in northeastern Bohemia. The journey from Prague is a little bit longer (190 km) and there is no direct bus or train. It takes about 3,5 hours by public transport to get there.
7. Telč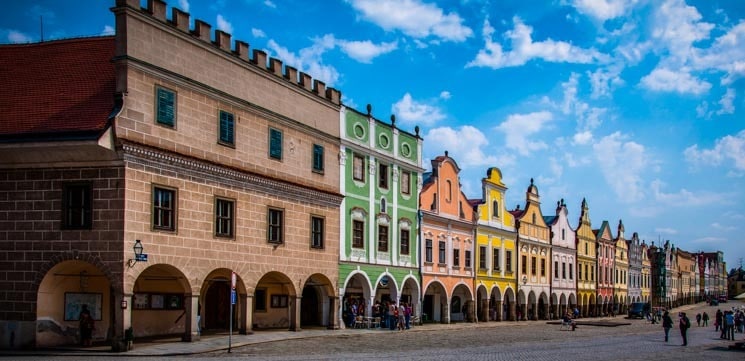 Telč is a small fairytale-like town surrounded by ponds, fields, and forests. It's an ideal destination for everyone who wants to escape the rush and enjoy the countryside. Telč's main square is one of the most romantic places in the Czech Republic. Imagine colorful historic houses with high gables and arcades build in a Renaissance and Baroque style. Telč's historical center is rightly part of the UNESCO World Heritage site. Don't forget to visit the chateau, one of the gems of Moravian Renaissance architecture.
Besides the romantic walks around the historical center, visits to little shops and cafes in arcades, Telč offers also many other activities like horse riding, cycling, swimming, bowling, rope-courses, sport fishing, technical museum, reconstructed Telč underground, steam mill, and many others.
Telč is about 160 km from Prague (located in Jihlava district) and it takes about 3,5 hours to get there by public transport (bus/train) from Prague.
8. Hluboká nad Vltavou (Hluboká Castle)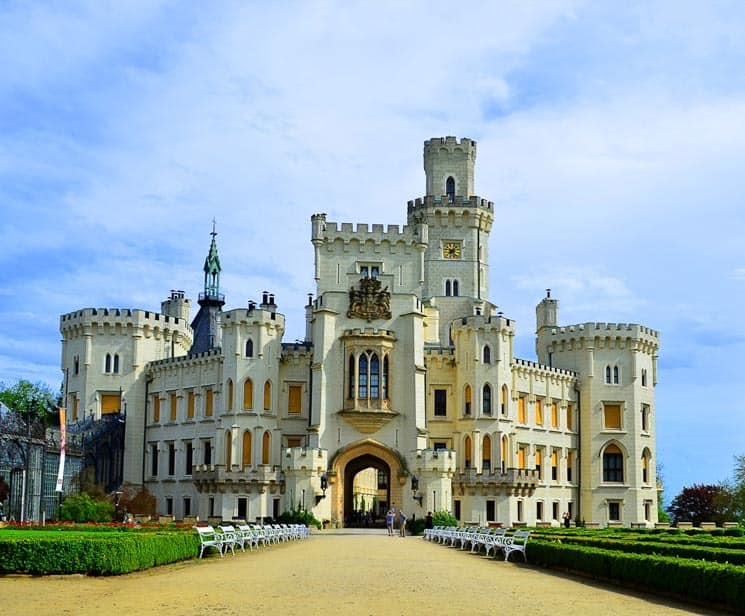 Hlubová nad Vltavou is often called the most beautiful castle in the Czech Republic as well as Neo-Gothic jewel of South Bohemia. The romantic château near České Budějovice dates back to the 13th century, it has 140 rooms, 11 towers, and extensive landscaped park! Its present look is thanks to the 19th-century reconstructions.
9. Lednice – Valtice

Lednice-Valtice is a cultural-natural landscape complex in South Moravia listed in UNESCO World Heritage. You can find there absolutely charming Chateau surrounded by beautiful gardens full of rare tree species, romantic buildings, and fishponds. Lednice-Valtice Complex is known as the Garden of Europe. Chateau Lednice has a neo-gothic appearance, meanwhile Valtice in a residence od Lord of Lichtenstein. Wine lovers will surely enjoy this region. In Pálava they grow the best wine in the Czech Republic.
10. Karlovy Vary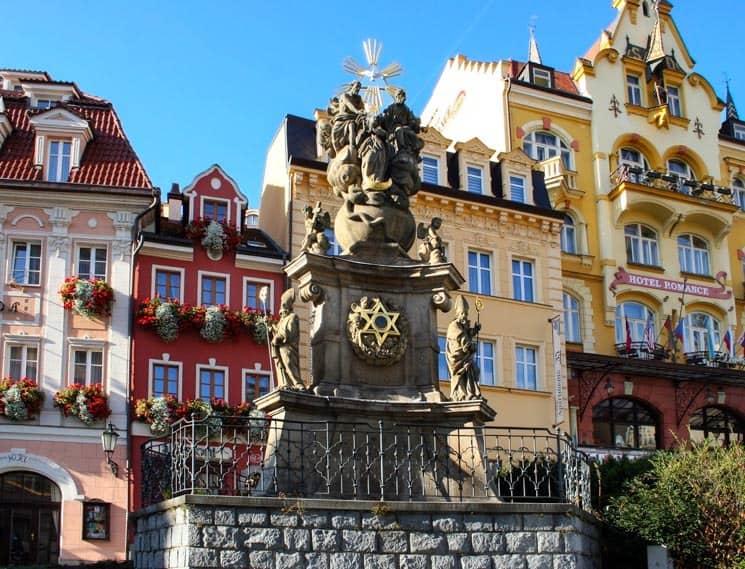 Karlovy Vary (or Carlsbad) is the most popular spa destination to visit in the Czech Republic. The city was founded in 1370 by Charles IV., Holy Roman Emperor. Situated in western Bohemia, Karlovy Vary is home to 13 large hot springs and many smaller ones. The city center has many monumental buildings with stunning architecture – no surprise, Karlovy Vary attracted many wealthy clients ever since.
Once you are there, walk through the famous colonnades like Mill Collonnade (Mlýnská kolonáda), Vřídelní kolonáda or Zámecká kolonáda. Awesome viewpoint to Karlovy Vary is called Vyhlídka Petra Velikého and viewpoint Jelení skok. Interesting is also Jan Becher Museum (Czech liquor from Karlovy Vary). If you need more inspiration, check these best places to visit in Karlovy Vary.
Karlovy Vary is located in the west corner of the Czech Republic, approximately 130km from Prague. You can get there by bus from Prague.
Best Places to visit in the Czech Republic – Castles and History
There are over 450 castles in the Czech Republic, so you can't obviously visit all of them (neither we did), but we have chosen the most beautiful and interesting ones, so you can choose which to add to your list of places to visit in the Czech Republic during your trip.
11. Bouzov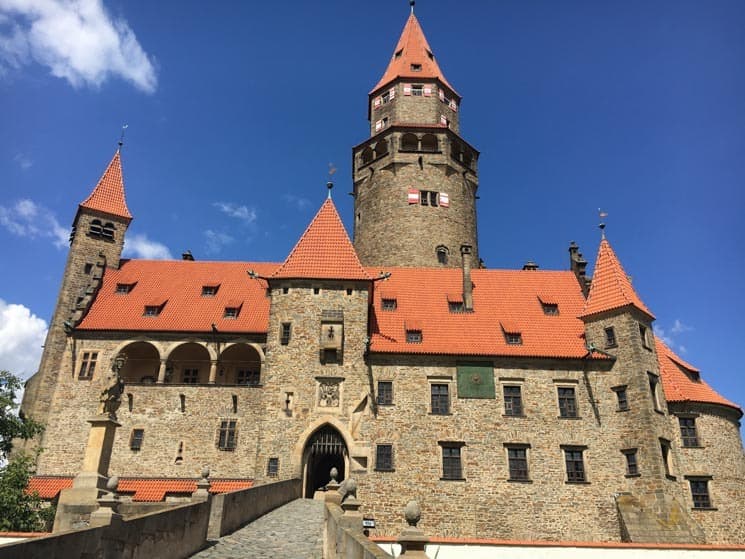 Bouzov castle belongs among the most beautiful castles in central Moravia. Unlike other medieval castles, this one never went to ruin. The castle has been used in a number of movies, especially fairy tales. Bouzov has an eight-storey watchtower, which dominates the castle complex (it's 58 meters high) and several smaller towers. The buildings around are formed in a shape of horseshoe.
Bouzov is located about 40 kilometers from Olomouc and there is a bus connection.
12. Vranov and Dyjí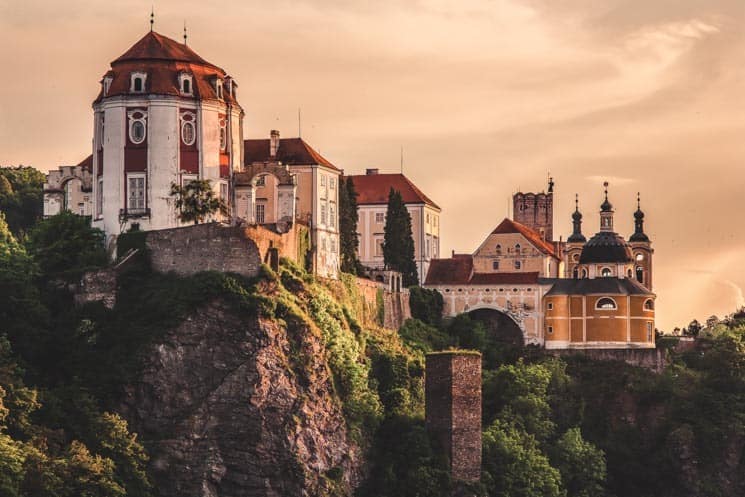 Castle in Vranov and Dyjí is a fairy tale Baroque castle situated on a rock promontory over the River Dyje. Castle's current appearance was designed by the imperial architect Johann Bernhard Fischer from Erlach. It is situated on the southern border of the Czechia, about 110 kilometers from Vienna. The castle lies in the smallest Czech National Park – Podyjí. The local landscape is exceptionally well-preserved, and you can find there varieties of plants and animals.
13. Křivoklát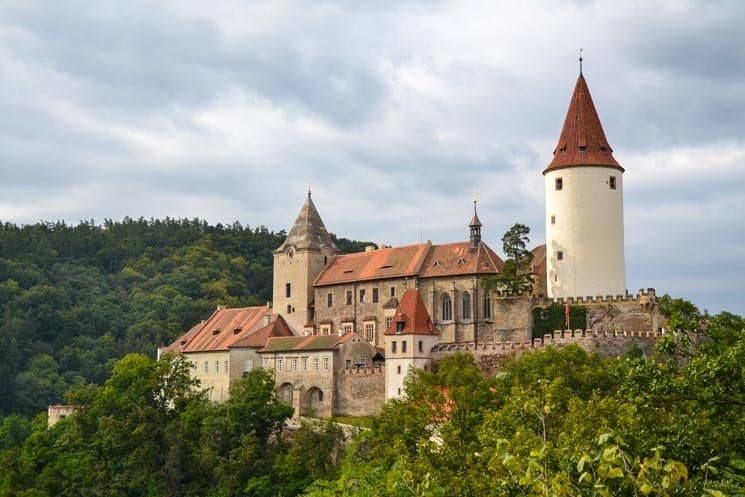 Křivoklát castle was founded in the 12th century, belonging to the Czech kings. This royal residence was a favorite place due to its perfect location; the castle is surrounded by deep forest (full of the game) and nowadays there is a National Natural Protected area called Křivoklátsko.
Křivoklát is located about 50 kilometers west of Prague.
14. Bezděz
Bezděz castle was one of the most important Gothic castles in Czech lands, it was also a place of imprisonment of Queen Kunhuta and her son Václav II. Castle was founded between 12060-1280 on a hill called Velký Bezděz (Big Bezděz), right next to this hill is another summit called Malý Bezděz (Little Bezděz). Bezděz it's not far from another castle – Kokořín. On a good day, you can see the double summit of Bezděz even from Prague.
15. Červená Lhota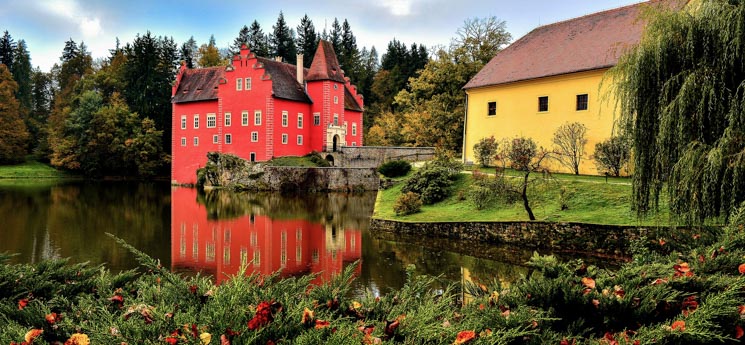 Castle in Červená Lhota is a very unique "building" in South Bohemia. It stands on the island surrounded by a pond. It used to be a Gothic fort, later rebuild in a summer residence. The name Červená Lhota means the red village (according to the red brick roof, and later even façade). The pictures of the red castle reflecting in the water are simply stunning.
16. Kokořín
Kokořín is located only 50 kilometers north of Prague in a lovely location Kokořínsko. Castle was built in the 14th century by the order of Hynek Berka z Dubé. It's a Czech national cultural landmark since 2001. Kokořínsko is a popular recreational area for its deep forests, sandstone rock mazes, and beautiful lakes. Great for cycling or trekking.

You can get there easily from Prague (about 1 hour by bus).
17. Pernštejn
Pernštejn castle belongs among the most beautiful castles in Moravia. The castle was founded in the 13th century. Its history is closely connected to Lords of Pernštejn – richest and most powerful lordly family of the Czech kingdom of that age. Pernštejn is a Gothic castle with an admirable defense system. It's also a popular location for film crews all over the world.

The castle is located in Moravia about 40 kilometers (25 mi) northwest of Brno. It's easily reachable by public transport (in only 1 hour from Brno).
18. Trosky
The ruins of Trosky Castle are dominant of Bohemian paradise, standing on summits of 2 basalt volcanic plugs. They have 2 peaks: the lower peak is called Baba (Old Woman) and the higher is Panna (Virgin). The castle was established in the 14th century.
19. Kost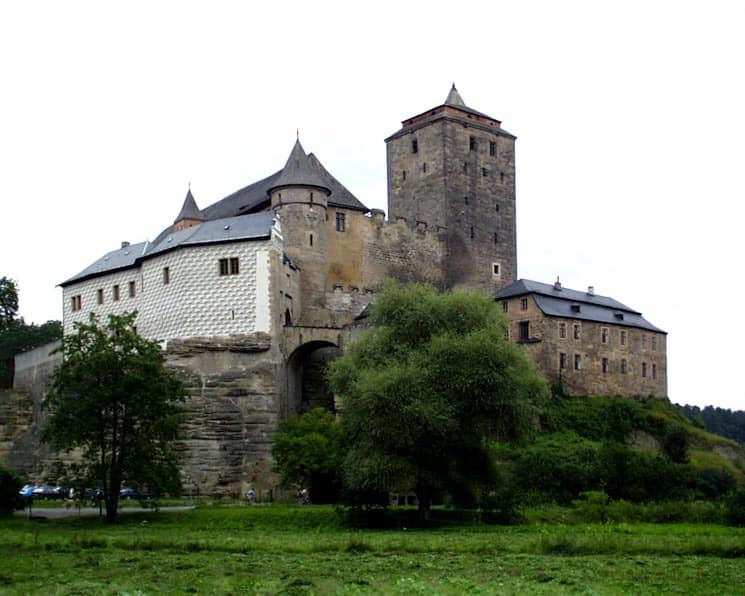 Kost Castle is another castle located in Český ráj (Bohemian Paradise). This fortress was originally built after 1371, probably by Beneš von Wartenberg. Unlike most other castles in Czechia, it isn't build up on the hill, but on a spit between two brooks and rocky valleys.
20.Terezín
Although the Terezín is not a castle, this fortress has a sad significant role in history. It first became infamous as a prison, and later during World War II as a concentration camp and Jewish ghetto. Terezín Monument is dedicated to the holocaust victims. Terezín is made up of the Small and Big Fortress and includes a complex of buildings on both sides of the river. Terezín is a place to learn about the dark history of World War II.
Best Places to visit in the Czech Republic – Cities
Here is a list of cool Czech cities to visit. Well, I would say that there is a nice historical center in all cities in Czechia, but those ones deserve extra attention:
21. Olomouc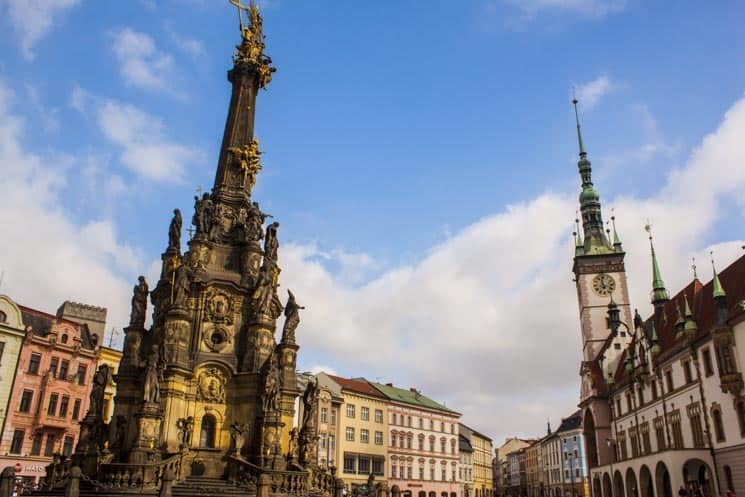 A good option to escape crowds is Olomouc – lesser-known but still a nice city with UNESCO sites. The most important monument is the Holy Trinity Column in the central square with a large group of Baroque statues. Another important place is the Olomouc Town Hall with the astronomical clock (to see the full performance, be there at 12 PM sharp). Visit also St. Wenceslas' Cathedral, Church of St. Maurice pilgrimage place Svatý Kopeček (Holy Hill). Don't forget to try Olomouc specialty – Olomoucké tvarůžky, which is a typical Czech smelly cheese.
Olomouc can be very easily reached by bus or train from both Prague and Brno.
22. Kroměříž
Kroměříž is also one of the UNESCO places to visit in the Czech Republic. It is a beautiful historical city called the Athens of the Haná region. Kroměříž was founded in the 13th century, many of its houses have the arcades and most importantly you will find there wonderful gardens with a multicolored flood of flowers (Květná and Podzámecká gardens), fountains, charming colonnade, and monumental archbishop's chateau. The Gardens and Castle at Kroměříž constitute a remarkably well preserved and unchanged example of a Baroque aristocratic ensemble.
Kroměříž is easily reachable by bus from Brno (in about 1 hour).
23. Mikulov and Pálava – Land of wine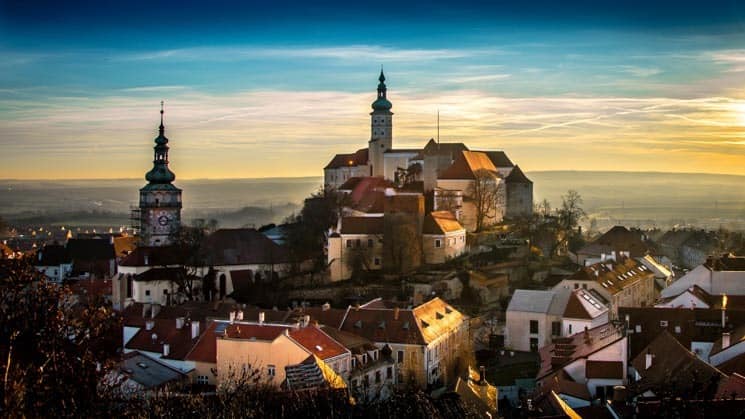 Pálava is Czech Land of wine and Mikulov is its "capital". The highlands of Pálava reminiscent "laying lady". Pálava Natural Reserve is a part of UNESCO biosphere reserves. Thanks to the warm and dry climate, there can be found unique flowers and both flora and fauna are extremely rich in this area. There is also a beautiful water reservoir Nové Mlýny. Adrenaline enthusiasts and wellness lovers might try Aqualand Moravia in Pasohlávky.
24. Brno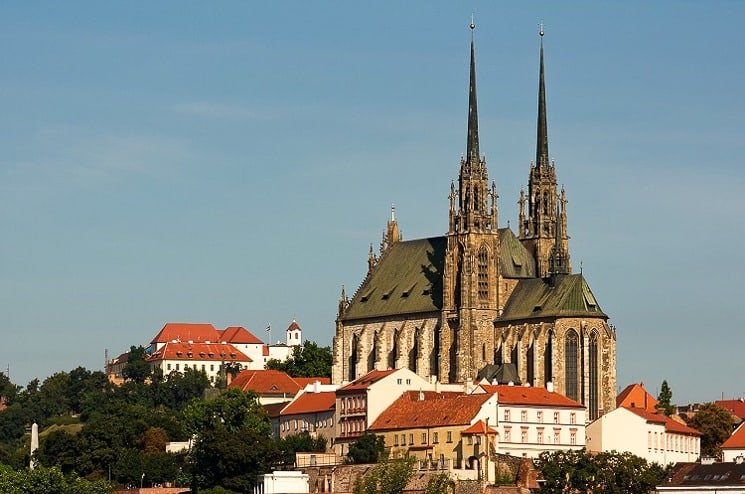 Welcome to Brno, the 2nd largest city in the Czech Republic. Brno presents a perfect combination of history and a modern city. You can find there remarkable historic places, delicious food, beer, and wine. Brno was voted as 6th most favorite student city in the world!

Once you are there, read this Ultimate Brno Guide to get some inspiration. The main must-see places are Špilberk Castle and Petrov Cathedral – two dominants of the city. St. James Ossuary or Brno's underground are also cool places to visit.
25. Litomyšl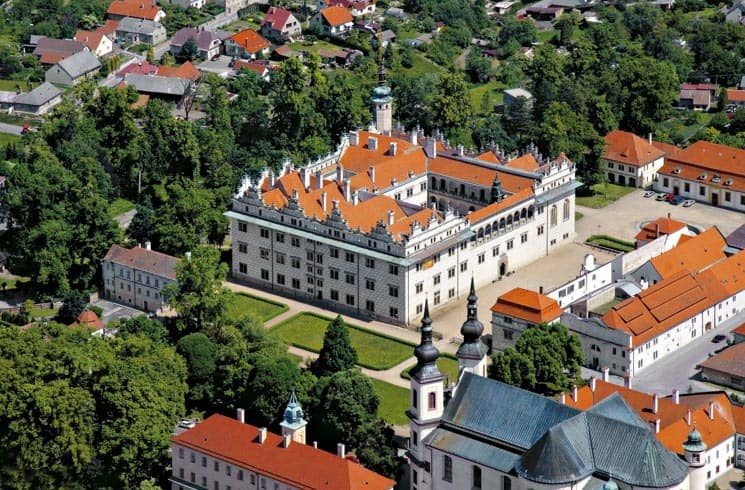 Besides its UNESCO sites, Litomyšl is known as the birthplace of famous Czech composer Bedřich Smetana. Litomyšl has a beautiful Renaissance Castle with its sgraffito decoration. You will find there also the Baroque Theater – one of the few in the world that has been preserved almost in its original form. Litomyšl has a charming main square, lined with colorful arcade-fronted houses also from the Renaissance period. If you want to experience top-class cultural experience, plan your visit at the end of June, when there is Smetana's Litomyšl opera festival.
Litomyšl is located in the Pardubice region and you can get there by public transportation in about 2,5 hours from Prague.
26. Plzeň and Pilsner Breweries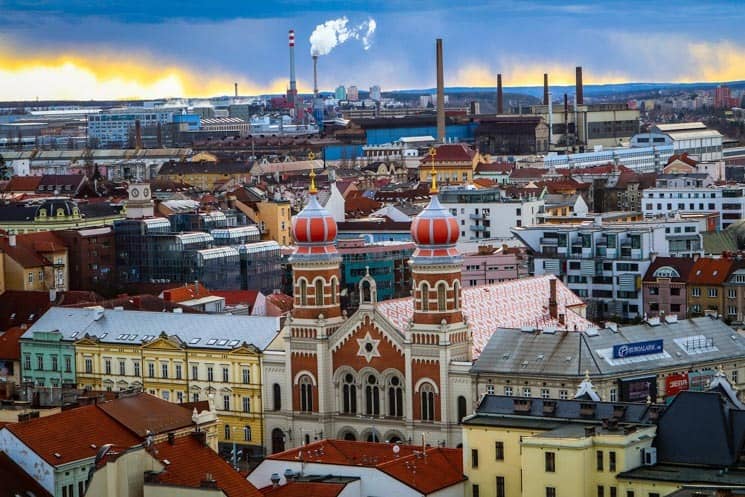 Plzeň (Pilsen) is the city worldwide known for Pilsner beer, where it was first produced in 1842 by Bavarian brewer Josef Groll. Pilsner later gave the name to the pale lager which is now known as a type of beer – pilsner. If you feel lost among different beer brands and type, we have prepared for you an ultimate guide about Czech beer.
Besides the beer-related activities like a visit to Pilsner Urquell Brewery, Beer Museum, Beer spa, etc. it's nice to explore the city center with St. Bartholomew Cathedral, Marian Column, the Great Synagogue (3rd largest in the world), historical underground or Techmania Science Center.
The bus between Prague and Plzeň takes only 1 hour.
27. Písek
Písek is a city in South Bohemia, where you can find the oldest bridge in the Czech Republic! The Gothic stone bridge is from the 13th century and it's the 2nd oldest bridge in Europe! The bridge is 110 meters long and 6,5 meters wide, resembling the Charles Bridge in Prague. There used to be towers on each side of the bridge as well. In the city center, you can find the Gothic castle as well as the Gothic church with a clock tower.
There is quite a good bus connection between Prague and Písek.
28. Jindřichův Hradec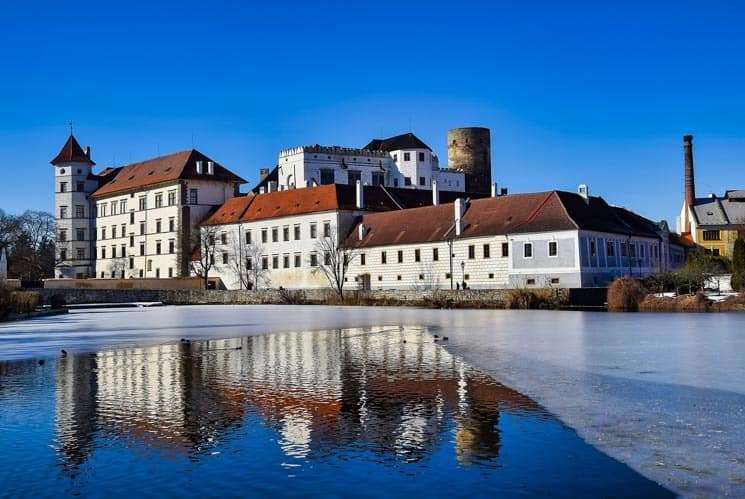 Jindřichův Hradec is a beautiful South Bohemian city with an elegant Renaissance castle on the Vajgar pond bank. The castle is exceptionally beautiful, placed in a nice Bohemian landscape. If you didn't hear about that the legend of the White Lady still lives on! Not only the castle but the city center breaths with history, there are nice decorated houses, cobblestone streets, enchanting churches and you can see also the 15. Meridian, which goes through the central part and you will find it on the Church of Assumption of the Virgin Mary.
You can get there from Prague by bus which takes a little bit more than 2 hours.
29. Slavonice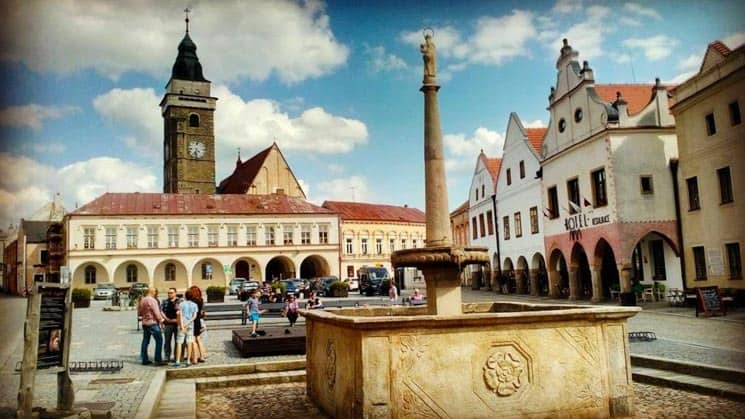 Slavonice is a tiny Czech town in the so-called region "Czech Canada", situated on the border of Bohemia, Moravia, and Austria. Slavonice offers a truly unique collection of Gothic-Renaissance monuments and beautifully decorated houses. You can see the stories from the Bible on the walls of houses made by the sgraffito technique. There are also amazing underground passageways to explore. Don't forget to climb the Slavonice tower which offers great views to the surroundings.
Getting to Slavonice by public transportation is quite long and complicated. However, if you would like to visit something "of the beaten path", Slavonice could be a good choice.
Best Places to visit in the Czech Republic – Nature
If you are a nature lover or if you want to escape the rush, plan your trip to some of our National Parks or mountain areas.
30. Český ráj (Bohemian Paradise)
Český ráj is a Protected Landscape Area in the North of Bohemia. It's a nice recreational area where the most recognizable elements are sandstone rocks. Highlights of the whole area of 181 km2 are Prachovské skály (Prachov Rocks), Hrubá skála rock town with a beautiful castle places high up on the rock platform, Trosky Castle (14th-century ruins), Drábské světničky rocks, and Klokočské skály (Klokoč rocks). The whole area is perfect for cycling, trekking or even canoeing at the Jizera river.
Trutnov or Hrubá Skála are great gateways to Český Ráj.
31. Moravský Kras – Moravian Karst
Moravian Karst is an extensive and very unique Protected Natural Area not very far from Brno (Czech 2nd largest city). There are more than 1 000 caves, which make Moravian Kast one of the most important karsts of Central Europe. There are 5 different caves you can visit:
Macocha Abyss (Propast Macocha) – More than 138 meters deep abyss/gorge.
Punkva Caves (Punkevní jeskyně) – Cave with a romantic water cruise on the underground Punkva River.
Balcarka Cave (Jeskyně Balcarka) – Cave with full-color stalactitic decoration.
Katerinska Cave (Kateřínská jeskyně) – Cave with the biggest underground hall in the Czechia.
Sloupsko-Sosuvske Caves (Sloupsko-Šošůvské jeskyně) a complex of large domes, and corridors.
Vypustek Cave (Jeskyně Výpustek) – former underground fallout shelter.
Moravian Karst can be reached by public transportation from Brno (by train to Blansko and from there by bus).
32. Krkonoše and Sněžka (Czech highest mountain)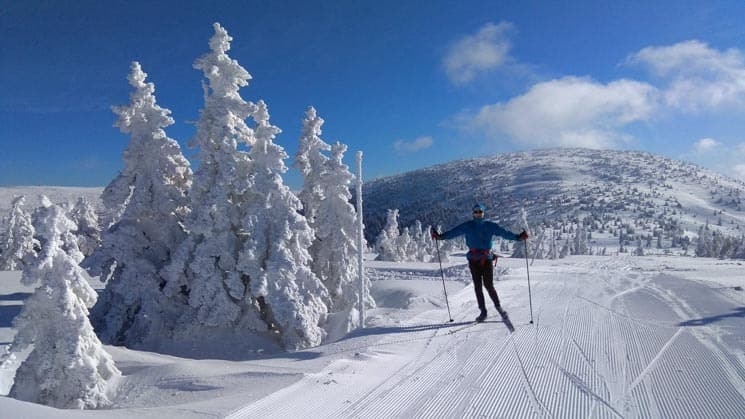 In case you belong to the people, who want to conquer the country's highest mountain, then you need to visit Krkonoše National Park with the highest mountain of the Czech Republic – Sněžka (1603 m n. m.). Krkonoše is the most visited Czech mountain area. They are a perfect place for trekking and hiking in the summer, while in winter they are great for winter activities such as cross-country skiing, ski alpinism, and downhill skiing.
33. Šumava National Park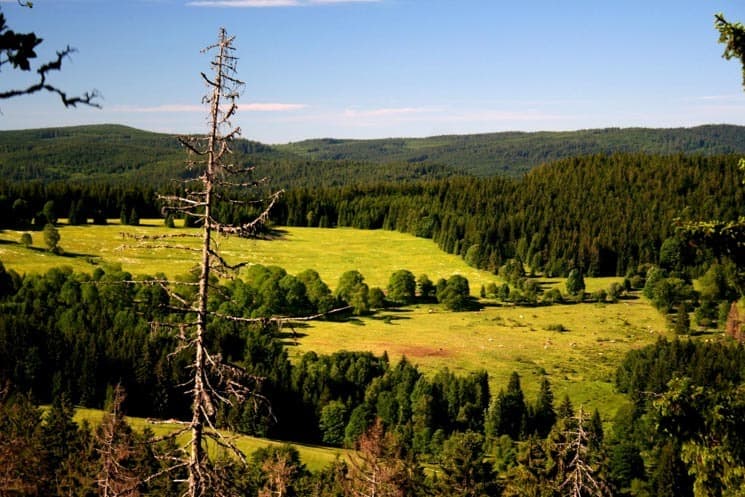 Šumava is the biggest Czech National Park (also called Bohemian Forest National Park). The most valuable part of the park is the Boubín primeval forest (Boubínský prales), where nature has evolved undisturbed for hundreds of years. Together with the forests on the Bavarian side, they have created the largest forested area on the whole continent. Šumava National Park was also declared a UNESCO Biosphere Reserve.
Don't miss a beautiful view from the look-out tower at Poledník (with the good visibility you can see as far as the Austrian Alps). Among the highlights of the park belongs its glacial lakes – Černé and Čertovo (Devil and Black lakes). You can head off exploring Šumava NP on e-bike.
There are also other beautiful places to visit in the Czech Republic like Jeseníky or Beskydy mountains + previously mentioned:
Český ráj
Adršpašsko-Teplické skály
Moravian Karst
Best Places to visit in the Czech Republic – Culture and Traditions
34. Holašovice – Historical village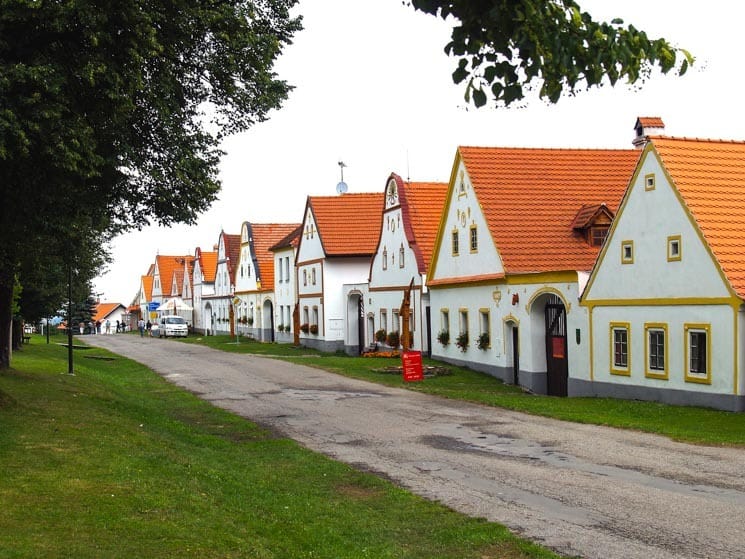 Holašovice is a small village situated in the South Bohemia. You can find there 23 wonderful Baroque farmsteads around the extensive village green with the gables with unique stucco decoration. The style is known as South Bohemian "Folk Baroque". Holašovice is a perfect example of a traditional central European village that has kept its original medieval layout, land parceling and its historical appearance. Holašovice village is listed in the UNESCO world heritage list.
35. Strážnice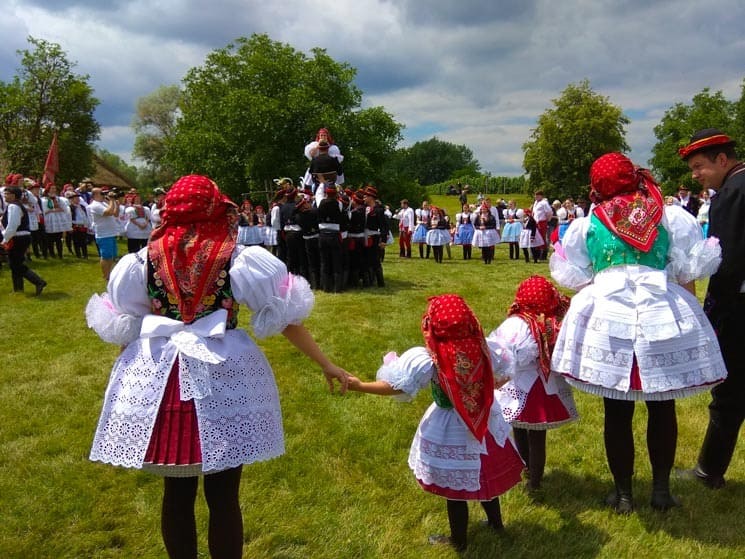 If you want to learn about Czech Folklor and traditions – visit Strážnice during some of the traditional festivals. It is an open-air Moravian village museum. You will find out how Easter or other festivals were celebrated in an authentic atmosphere of a Moravian village in the 19th century. The highlight event of the year is Strážnice International Folklore Festival – where you can see the dance performances and richly embroidered folk costumes not only from Moravia and the whole Czech Republic but also from other places all around the world.
Strážnice can be reached from Brno by bus or train.
Best Places to visit in the Czech Republic – Other UNESCO sites
If you want to visit some places of the beaten path, pick one of these destinations:
36. Training of Ceremonial Carriage Horses at Kladruby nad Labem
Kladruby is only a small village in the Pardubice region. The place is unique for is training and breading farmstead. The Kladruby and Labem farmstead has a long tradition of training the Baroque draught horses of the Kladruber breed which were used during the ceremonies at the Habsburg Imperial Court. The Imperial Stud Farm in Kladruby was founded in 1579.
37. Krušnohoří/Erzgebirge Mining region
This mining region belongs to the latest UNESCO sites in the Czech Republic. It's a group of technical mining landmarks in Krušné mountains in the north-western part of Bohemia and German Saxony (not very far from Karlovy Vary). The UNESCO mining region includes a total of 22 locations. In Czechia, it's Krupka, Jáchymov, Abertamy, Horní Blatná, Mědník, and the Red Tower of Death in Vykmanov. From the 12th century to the 20th, Krušnohoří was a place of extraction and processing of tin, cobalt, silver, copper, iron, and uranium. What you might not know that the name of the "dollar" comes from the Czech "tolar" from Jáchymov.
38. Třebíč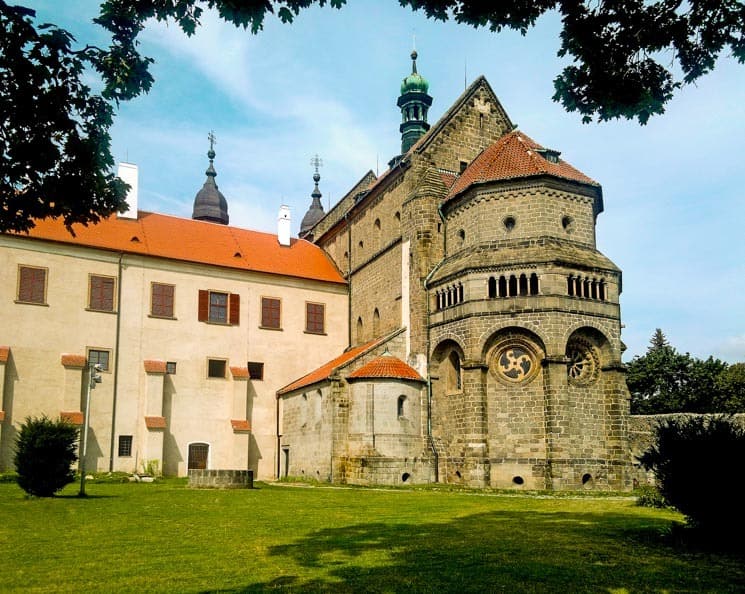 Třebíč is another Czech city with charming UNESCO sites. Třebíč offers the tranquillity of a small Czech city with medieval architecture, especially in the city center. Most interesting is the Jewish Quarter and its cemetery with 11 000 graves and 3000 tombstones. Important is also late-Romanesque basilica of St. Procopius.
It takes a little bit more than 1 hour to get to the Třebíč from Brno by bus/train.
39. Zelená Hora near Žďár nad Sázavou
Another UNESCO site is the Church of St. John of Nepomuk at Zelená hora near Žďár nad Sázavou. It is a mystical structure with 5 gates, 5 chapels, 5 altars and 5 stars by architect Jan Blažej Santini-Aichel. The whole complex is literally interwoven with mystical symbols and enigmas.
Žďár and Sázavou can be reached by train in about 1 hour from Brno or in 2,5 hours from Prague.
Best Places to visit in the Czech Republic – Map
We have prepared a detailed map of all the best places to visit in the Czech Republic to help you plan your trip out. Points of interest are divided by categories. Each category has a different color for easy orientation. The map can be exported and uploaded to the mobile map app like Maps.me or Locus maps.
Pin best places to visit in the Czech Republic for later or for your friends: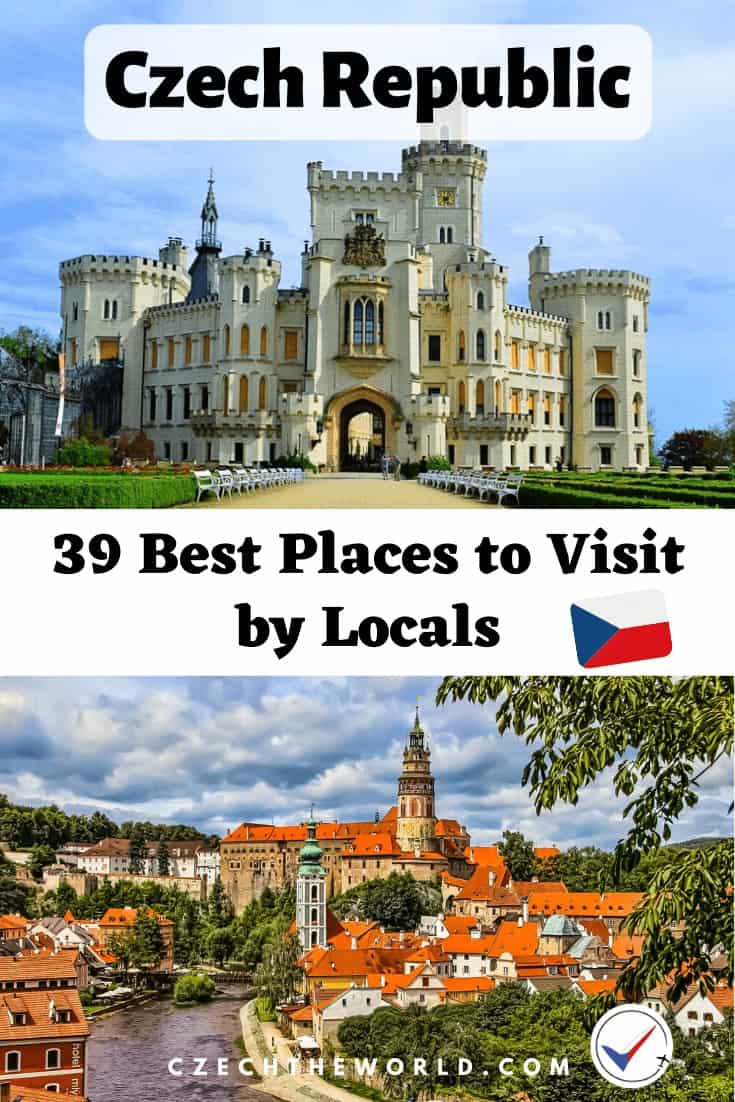 FAQ – Places to visit in the Czech Republic
Did this post about best places to visit in the Czech Republic help you? Share it with your friends! It can help them too!