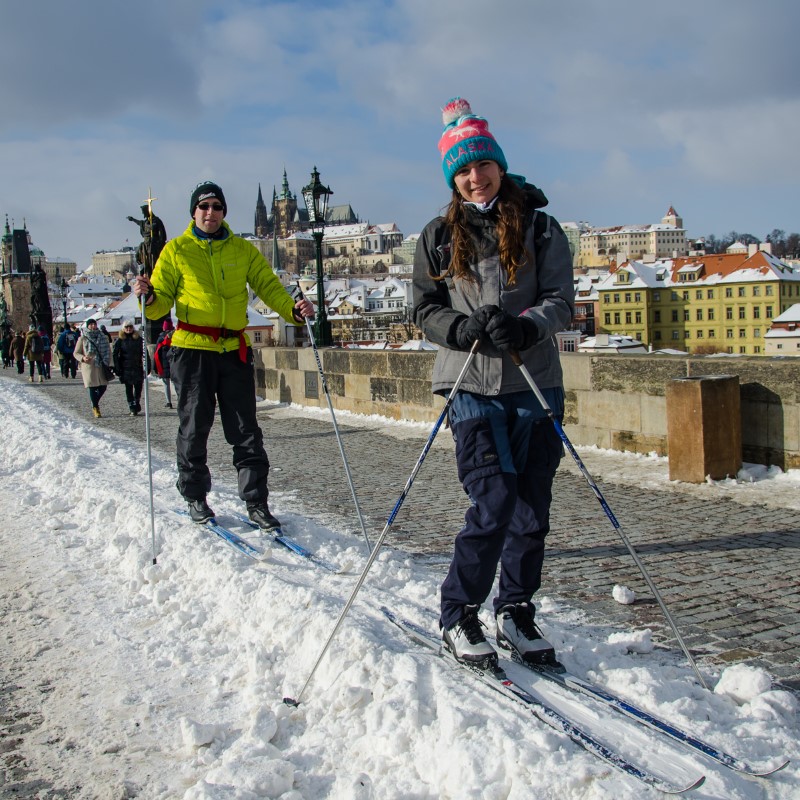 Written by local experts Adriana & Matěj
Adriana and Matěj Halouskovi are travel bloggers behind the successful blog Czech the World.
Matěj was born in Prague and has lived here his entire life and Adriana moved here 6 years ago.
We have traveled to more than 60 countries, but if we could tell you what place we know the most, it is our city.
What I love about Prague is that you can see all the important buildings, churches, and places completely for free. You can spend 2 days walking through Prague without an obligation to pay anything while enjoying both historical and modern places. So here is a list of best things to do in Prague for free.
Map of Free Things to Do in Prague
Here we have prepared for you a detailed map of free things to do in Prague.
You can export the map to mobile applications such as Locus Map or Maps.me. This way, you can use the map completely offline!
1) Prague Castle (Pražský hrad): Wander around the largest castle complex in the world
The main highlight is undoubtedly the stunning St. Vitus Cathedral, an awe-inspiring Gothic masterpiece that houses the tombs of Bohemian kings and boasts the impressive St. Wenceslas Chapel. You can also wander through the Old Royal Palace, where kings once held court, and don't miss the charming Golden Lane, a row of colorful, historic houses.
While entrance to some areas of the castle complex requires a fee, you can still enjoy the exterior, including the grand courtyards and breathtaking panoramic views of Prague.
Be prepared for crowds, especially during peak tourist seasons, and consider arriving early in the morning or later in the day for a quieter experience. Enjoy one of the best things to do in Prague for free.
2) St. Vitus Cathedral (Svatovítská katedrála): Admire the impressive Gothic architecture
St. Vitus Cathedral, located within the magnificent Prague Castle complex, is a towering masterpiece of Gothic architecture and one of Prague's most iconic landmarks. The main highlight is the breathtaking interior, where visitors can marvel at the stunning stained-glass windows, intricate Gothic vaults, and the ornate Chapel of St. Wenceslas. The cathedral is also home to the tombs of Bohemian kings, adding to its historical significance.
Entrance to the cathedral itself is free, but there are also some specific areas within the cathedral that require an admission fee. If you want to learn about the history, you can join a guided tour, which can provide valuable insights into the cathedral's history and architectural details. The guided tours can be paid for only at the Information Center in the 3rd Courtyard of Prague Castle (opposite to the entrance to the Saint Vitus Cathedral).
Be sure to dress appropriately, as it's a place of worship.
3) Petrin Hill (Petřín): Hike up for a great viewpoint
Petřín Hill is a serene oasis in the heart of Prague, offering a peaceful escape from the bustling city below. The main highlight is the Petřín Tower, a miniature replica of the Eiffel Tower, which provides panoramic views of Prague's skyline.
You can also explore the lush gardens, including the Rose Garden, and take leisurely walks through the park's picturesque paths. It's a perfect spot for a relaxing picnic or a romantic stroll. To reach Petřín Hill, you can walk from the Lesser Town or take the funicular railway. Entrance to the park is free but if you wish to visit even the lookout tower, there is a fee (but it is worth it).
4) Strahov Monastery (Strahovský klášter): Explore the monastery
The Strahov Monastery is a historic gem nestled at the end of Petřín Hill. Entrance to the Strahov complex is free but you might be interested in visiting one of the main highlights: the Strahov Library, with its stunning Baroque hall and an impressive collection of rare books and manuscripts, and the Strahov Picture Gallery, showcasing centuries of European art. Check the opening hours before your visit.
The tranquil Strahov Monastery Garden is another delightful feature, offering splendid views of Prague Castle.
5) Charles Bridge (Karlův most): Walk across the iconic bridge
The Charles Bridge is a legendary Prague landmark that beckons visitors with its timeless charm. The main highlight is the stunning view it offers as you walk across the Vltava River. The bridge itself is adorned with 30 statues of saints and boasts a rich history dating back to the 14th century. You can discover more about Charles Bridge's legends and history here.
It's the perfect place to soak in Prague's beauty, whether it's admiring the Gothic bridge towers at each end or taking in the lively atmosphere created by street performers and vendors. For a less crowded experience, consider visiting early in the morning to truly appreciate the bridge's historic allure.
6) Old Town Square (Staroměstské náměstí): Explore the heart of Prague's historic district
Prague's Old Town Square is the beating heart of the city's historic district, a must-visit for any traveler. The main highlight is the breathtaking architecture that surrounds the square, including the Old Town Hall with its Astronomical Clock and the Church of Our Lady before Týn. The square is also a hub of cultural events and festivals, making it a vibrant place to explore.
First-time visitors can join walking tours that depart from the square to gain a deeper understanding of its historical and cultural significance. Whether you're admiring the architecture or savoring Czech cuisine and beer, the Old Town Square is an essential Prague experience.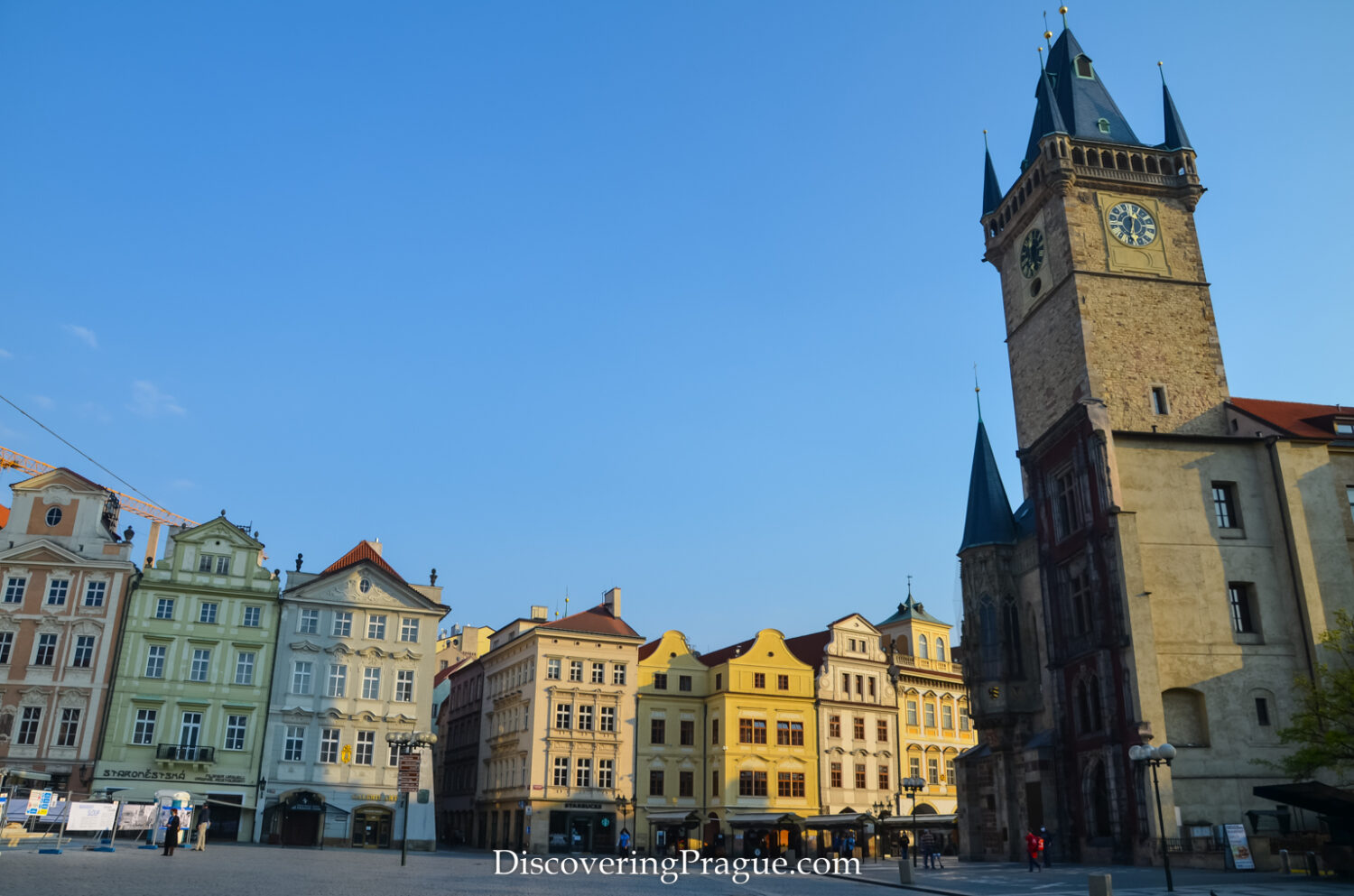 7) Astronomical Clock: Watch the hourly show at the Pražský Orloj
The Prague Astronomical Clock is a true masterpiece of medieval engineering and artistry. Dating back to 1410, it is the oldest astronomical clock in the world still in operation. The main highlight is the hourly show, where the clock comes to life as the Apostles make their appearance in the windows above the clock face, accompanied by the ringing of the bell.
The clock's intricate design is fascinating, with its astronomical dial, zodiac ring, and various figurines representing allegorical themes. You can also spot a skeleton figure, symbolizing the passing of time, which rings a bell at the top of the hour. Visitors should note that the hourly show is a brief but enchanting spectacle, so arrive a few minutes early to secure a good viewing spot in the bustling Old Town Square.
8) Wallenstein Garden (Valdštejnská zahrada): Enjoy the serene atmosphere of the Baroque garden
Wallenstein Garden, tucked away in the Lesser Town district, offers a serene escape from the hustle and bustle of Prague's city center. The main highlight is the Baroque garden's tranquil atmosphere, complete with lush greenery, ponds, and charming statues.
Visitors can also explore the Wallenstein Palace, now the home of the Czech Senate, and admire the impressive architecture. Entrance to the garden is free, making it a perfect spot for a leisurely stroll or a moment of relaxation. The garden is particularly beautiful during spring and summer, with blooming flowers and the soothing sound of fountains providing a peaceful retreat for both locals and tourists.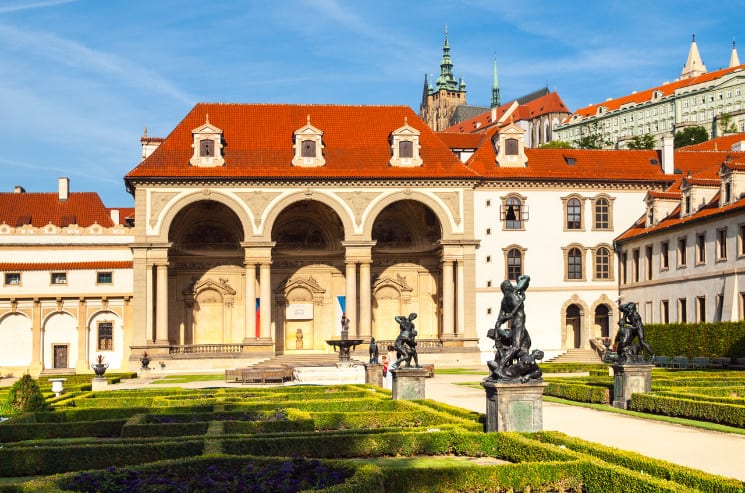 9) Powder Tower (Prašná brána): Admire this historical gate tower
The Powder Tower is one of Prague's most significant Gothic landmarks. Serving as one of the original city gates, it dates back to the 11th century, though the current structure was erected in the late 15th century. Historically, the tower was used to store gunpowder, which is how it derived its name.
The picture from the outside is worth it. You can also ascend the tower for a small fee (opening hours here), and doing so rewards you with panoramic views of Prague's Old Town. Additionally, its intricate architectural details and its role as the starting point for the traditional Royal Route to Prague Castle make it a must-visit spot in the city.
10) Fanta's Building of Prague Main Station: Hidden Gem
The dispatch building designed by architect Josef Fanta is part of the main railway station in Prague and, together with the adjacent hall over the platforms, forms the largest Art Nouveau monument in the Czech Republic. In 1976, the main station was listed among the immovable cultural monuments, and since November 1, 1993, it has been part of the urban conservation area of Vinohrady, Žižkov, and Vršovice.
Many visitors coming to Prague by train won't even notice this hidden gem, because they are walking through the modern parts of the Main Station. But if you have some spare time, I encourage you to visit the beautiful Fatova kavárna (Fanta's caffé) and enjoy the history in this lovely Art Nouveau place. You can find out more about the building here.
11) Vyšehrad: Visit this historic fortress for panoramic views
Perched on a hill overlooking the Vltava River, Vyšehrad is a historic fortress that stands as a testament to Prague's rich past. Often referred to as "Prague's second castle," it dates back to the 10th century and has played a significant role in the city's history. Beyond its ancient walls and Gothic ruins, the fortress houses the Basilica of St Peter and St Paul, a stunning example of neo-Gothic architecture. But what draws most visitors to Vyšehrad is the unparalleled panoramic view it offers of the city. As you stand atop its battlements, the sprawling cityscape of Prague unfurls before you, making it a must-visit spot for photographers and history enthusiasts alike.
12) Kampa Park: Relax by the Vltava River
Situated on Kampa Island, nestled between the iconic Charles Bridge and the Vltava River, Kampa Park offers a serene escape in the midst of Prague's bustling city life. It's a perfect spot to relax, with its sprawling green lawns, tranquil water channels, and picturesque views of the city's historic architecture. One of the park's most distinctive features is the installation of faceless baby statues by Czech artist David Černý. These intriguing, larger-than-life sculptures, which appear to be crawling on the ground, have become emblematic of Kampa Park and provide both a unique photo opportunity and a taste of Prague's contemporary art scene.
13) Lennon Wall: See the ever-changing graffiti mural dedicated to John Lennon
Tucked away in the heart of Prague's Lesser Town, the Lennon Wall stands as a vibrant and ever-evolving tapestry of art, messages of peace, and lyrical quotes. What began in the 1980s as an act of defiance against the then communist regime has transformed into a tribute to John Lennon and his ideals of peace and freedom. The wall is continuously updated with new messages and artworks by visitors and locals, ensuring that no two visits to this landmark are ever the same. Beyond its colorful facade, the Lennon Wall symbolizes the enduring spirit of rebellion, hope, and the universal longing for peace.
14) National Museum (Národní Muzeum) Building
The National Museum in Prague is a cultural treasure trove. The building itself its wort the photos – a stunning neo-Renaissance architectural masterpiece. Museum offers a captivating experience even for visitors on a budget. Inside, you'll find exhibitions showcasing Czech history, art, and science.
15) Municipal House (Obecní dům): Marvel at the Art Nouveau architecture
The Municipal House is a testament to Art Nouveau splendor. While entrance to some areas may require a fee, simply marveling at the exterior of this architectural gem is an experience in itself. The main highlight is the stunning façade, adorned with intricate mosaics, sculptures, and decorative details. Located in the heart of Prague (Next to the Powder Tower), it's a fantastic example of the city's rich architectural heritage and a perfect spot for snapping photos.
16) Prague Metronome at Letná: Beautiful view of Prague
The Prague Metronome, perched atop Letná Park, offers visitors a unique experience and breathtaking views of the Vltava River. The main highlight is the giant metronome itself, a colossal art installation that replaced a statue of Joseph Stalin during the city's post-communist transformation. It's a symbol of Prague's changing identity and a popular gathering place for locals and tourists alike. As you stand by the metronome, you'll not only enjoy panoramic views but also the vibrant atmosphere of Letná Park.
17) Jewish Quarter: Explore the historic Jewish synagogues and cemetery
Prague's Jewish Quarter, or Josefov, is a historical and cultural gem that offers a rich tapestry of experiences. The main highlight is the chance to explore its historic synagogues and the centuries-old Jewish cemetery. The synagogues are not only architectural wonders but also repositories of Jewish history and culture. You can visit the Maisel Synagogue, the Pinkas Synagogue, and the Klausen Synagogue, among others, to learn about the vibrant Jewish heritage in Prague. Don't forget to explore the hauntingly beautiful Old Jewish Cemetery, where thousands of tombstones bear witness to centuries of Jewish life in the city. While some parts may require an entrance fee, the opportunity to delve into this historical quarter is worth it.
18) Náplavka Farmers Market: Enjoy local produce and crafts by the river
Náplavka Farmers Market is a vibrant hub of local culture and flavors set along the picturesque Vltava River. Strolling through the market, you'll encounter an array of fresh vegetables, artisanal cheeses, baked goods, and handmade crafts, all set against the backdrop of Prague's scenic riverbanks. It's not just a marketplace; it's a sensory journey into the heart of Czech culinary culture. Whether you're looking for a delightful snack, a souvenir, or simply a taste of authentic Prague life, Naplavka Farmers Market is a must-visit destination.
19) Trója Chateau: Explore the chateau's courtyard
Troja Chateau, a hidden gem nestled on the outskirts of Prague, offers a captivating blend of history and nature. The main highlight is its stunning courtyard, which boasts well-manicured gardens and a Baroque fountain that make for a picture-perfect setting. Visitors can explore the exterior of the chateau for free, soaking in the architectural beauty of this 17th-century marvel. The chateau is also home to the Prague City Gallery's Collection of Old Masters, although entrance to the gallery itself may require a fee.
20) Dancing House (Tančící dům): Take a picture of this unique architectural marvel
The Dancing House is a modern architectural wonder in Prague. The main highlight is its strikingly unique design, resembling a pair of dancers in motion. Located by the Vltava River, it's a fantastic spot to take pictures. A visit to the Dancing House offers a fascinating contrast to Prague's medieval and Baroque architecture. You can also visit the rooftop restaurant. Find out more about the Dancing House here.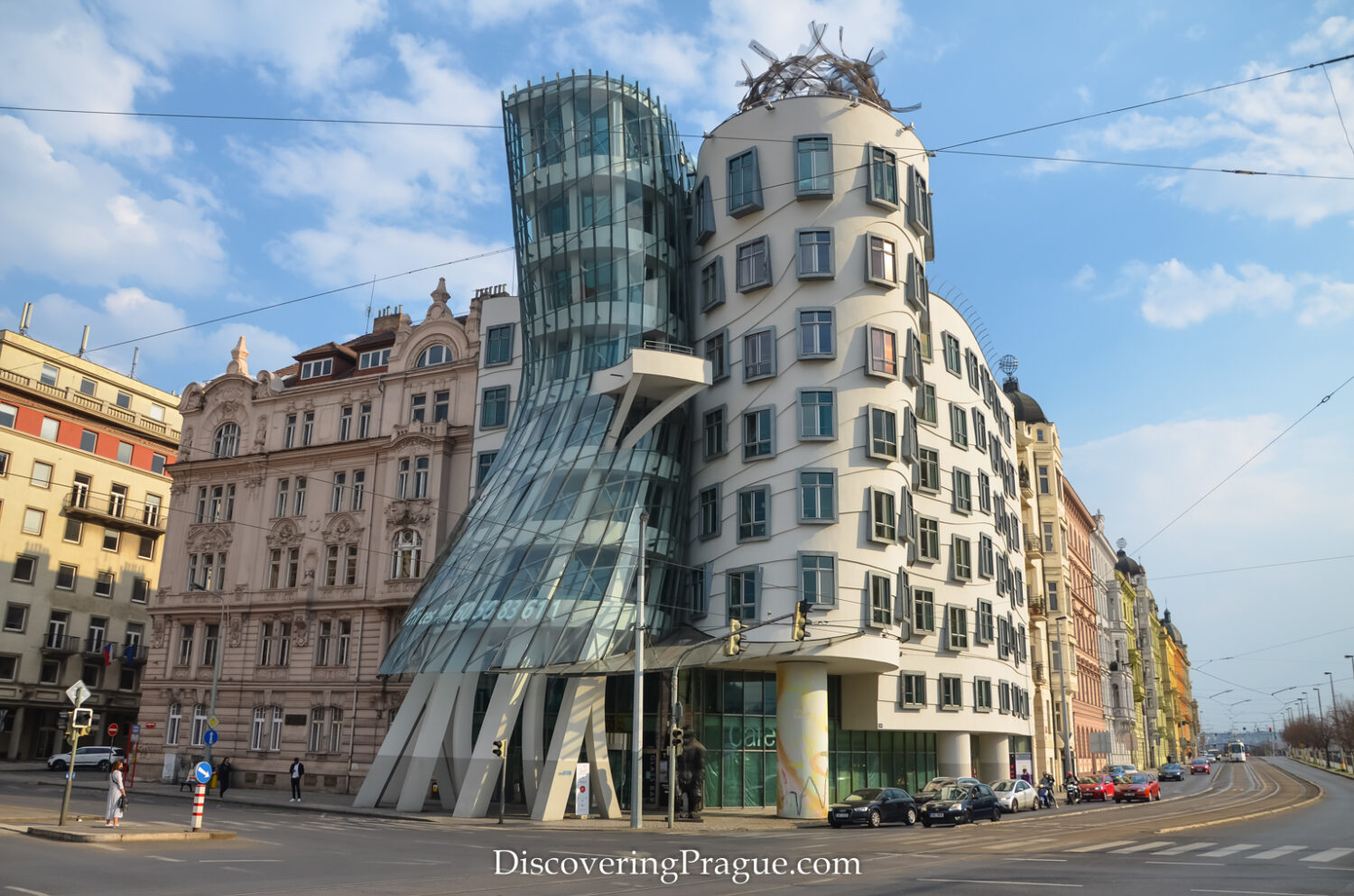 21) Check out the smallest house in Prague (2,25 m wide)
Located in Anežská Street, you can find the city's tiniest house. It measures just 2 and a quarter meter in width (88 inches). It was built in 1853 and designed by architect Josef Liebel. Once it served as a brothel. Nowadays, only the facade of the original dwelling remains, and it is an entrance to the inhabited rear section.
The alley in which the house is nestled once served as a secondary entrance to the courtyard of the U Křikavů house in Řásnovka. Over the centuries, this passage transformed into a residential space.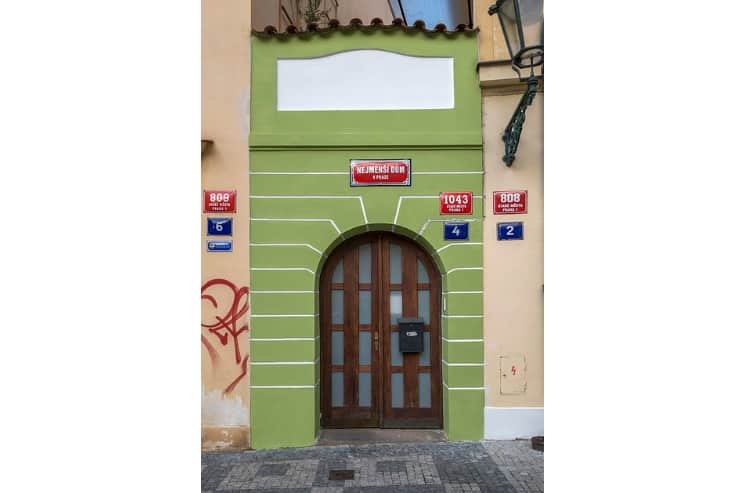 22) Stroll through the narrowest alley in Prague
The nameless street leading from "U Lužického semináře" Street to the garden of the Čertovka restaurant, is so narrow that a traffic light needed to be installed. It stands as the last remaining fire alley in Malá Strana. It is the last remaining fire alley in Malá Strana.
Measuring a mere 50 centimeters (19.7 inches) at its narrowest point, this street stands as a quirky and delightful treasure that fascinates both locals and visitors alike.
23) Upside-down horse sculpture
David Černý's Upside-down Horse sculpture in Prague symbolizes rebellion and social commentary, depicting Saint Wenceslas riding an upside-down dead horse. Unveiled by Černý, it has become an integral part of Prague's art scene, serving as a reminder to question established narratives and engage with Czech history.
The sculpture can be found at Pasáž Lucerna, Vodičkova, 110 00 Nové Město.
24) Stromovka Park: Enjoy a picnic or a leisurely walk
Stromovka Park, often called the "Royal Game Reserve," is a verdant oasis in the heart of Prague. The main highlight is the opportunity to relish nature within the city limits. Whether you choose to enjoy a leisurely walk through the park, have a picnic by the ponds, or simply unwind beneath the shade of centuries-old trees, Stromovka offers a peaceful retreat from the urban hustle.
25) Havlíčkovy Sady – Park Grébovka: Visit another park for relaxing day
Havlickovy Sady, also known as Park Grébovka, is a picturesque park located in the Vinohrady neighborhood. The main highlight is its serene and romantic atmosphere, characterized by lush greenery, beautiful fountain, vine-covered pavilions, and meandering paths. Visitors can explore this park for a relaxing day, complete with charming gardens, and quiet corners perfect for leisurely reading. The park is home to the Grebovka Pavilion, a Neo-Renaissance gem, which houses a lovely café where you can enjoy refreshments while taking in the park's beauty.
26) New Town Hall: Admire the stunning architecture of this building
The New Town Hall, or "Novoměstská radnice" in Czech, is a another architectural gem located in the heart of Prague's New Town. The main highlight is the opportunity to admire its stunning exterior from the outside and mainly there is also the famous lift – Paternoster.
27) St. Wenceslas Statue: See the equestrian statue in Wenceslas Square
The St. Wenceslas Statue, located in the iconic Wenceslas Square, is a striking equestrian monument dedicated to the patron saint of the Czech Republic. The majestic statue is a symbol of Czech identity and national pride. Standing at the top of Wenceslas Square, the statue is a focal point of this bustling urban space.
Surrounding it, you'll find a vibrant area filled with shops, restaurants, and historic buildings. It's an ideal place to soak in the city's vibrant atmosphere.
28) St. Nicholas Church (Kostel sv. Mikuláše) in Old Town
The St. Nicholas Church in Old Town is a stunning example of Baroque architecture nestled in the heart of Prague's historic district. The main highlight is the chance to visit this beautiful church. Its opulent interior boasts magnificent frescoes, ornate stucco work, and a grand dome that leaves visitors in awe.
While entrance to certain parts of the church may require a fee, the exterior alone is a sight to behold, with its impressive facade and striking twin towers.
29) Marian Plague Column (Morový sloup)
The Marian Plague Column is a striking Baroque monument located in Prague's Old Town Square. This Baroque masterpiece is adorned with intricate sculptures and intricate detailing. Erected in the 18th century to commemorate the end of a devastating plague, it stands as a testament to Prague's resilience and historical significance.
30) Náměstí Míru: Explore this peaceful square
Náměstí Míru, or Peace Square, is a tranquil oasis amidst the vibrant city of Prague. Adorned with elegant buildings and featuring the stunning Neo-Gothic Church of St. Ludmila, the square offers a serene escape from the urban hustle. Visitors can relax on benches, watch the world go by, or simply appreciate the architectural beauty that surrounds them.
31) Františkánská Zahrada (Franciscan Garden): Relax in this hidden garden
Františkánská Zahrada is a hidden gem tucked away in the heart of Prague. This peaceful oasis offers a respite from the city's bustling streets, with shaded pathways, colorful flowers, and a serene atmosphere. It's an ideal spot for a quiet escape, a leisurely read, or a peaceful moment of reflection.
32) Letná Beer Garden: Great for panoramic views and cheap beer
The Letná Beer Garden offers a perfect blend of panoramic views, refreshing drinks, and a budget-friendly experience. While savoring a cold Czech beer, visitors can soak in the breathtaking scenery along the Vltava River and the iconic Prague Castle. This beer garden is a favorite among both locals and tourists, making it a fantastic place to unwind, socialize, and appreciate the city's beauty without breaking the bank.
33) Jiřího z Poděbrad Farmers Market: Sample local food and produce
The Jiřího z Poděbrad Farmers Market is a vibrant epicenter of local flavors and culture. The main highlight is the opportunity to sample an array of local food and produce. From fresh vegetables and artisanal cheeses to delicious street food and homemade pastries, this market offers a delightful culinary journey. The market takes place four times a week from Wednesday to Saturday.
34) Karlín: Stroll through trendy neighborhood
Karlín is a trendy and up-and-coming neighborhood in Prague, perfect for a leisurely stroll and exploration. This district is known for its charming streets, eclectic architecture, and burgeoning culinary scene. As you wander through Karlín's streets, you'll encounter stylish cafes, chic boutiques, and a welcoming local vibe. It's an ideal neighborhood to discover Prague's modern side, away from the tourist crowds.
35) Jan Palach Memorial: Pay your respects at this memorial
The Jan Palach Memorial is a somber and important site in Prague, offering the chance to pay tribute to a courageous figure in Czech history. Jan Palach, a Czech student, self-immolated in protest against the 1968 Soviet invasion of Czechoslovakia. The memorial honors his sacrifice and the broader struggle for freedom and democracy. Visiting this site is a poignant reminder of the nation's history and the enduring spirit of resistance.
36) Malostranské Náměstí (Lesser Town Square): Visit this charming square
Malostranské Náměstí is a charming and historic square that invites exploration. Take the opportunity to visit this delightful square, surrounded by colorful facades, quaint cafes, and the impressive St. Nicholas Church. As you wander through the cobblestone streets of Lesser Town, you'll encounter a fusion of architectural styles and a rich sense of Prague's past. If you follow the Royal Way, you won't miss it.
37) Rotating Head of Franz Kafka Statue
Positioned just a stone's throw away from Prague's busy shopping boulevard, Na Příkopě stands a mesmerizing work of modern art: the Rotating Head of Franz Kafka. Created by the renowned Czech sculptor David Černý, this 11-meter-tall statue is composed of 42 rotating layers that continuously form and deconstruct the famous face of Franz Kafka, one of Prague's most celebrated literary figures.
The sculpture's dynamic and ever-shifting nature is not only a technical marvel but also symbolically represents Kafka's complex personality and the existential intricacies prevalent in his writings.
38) Two peeing Figuers Statue: A combination of humor, art, and provocation
Just outside the Franz Kafka Museum in the Malá Strana district, visitors often find themselves amused and intrigued by the "Peeing Figures" statue. Crafted by the ever-controversial Czech artist David Černý, this sculpture features two male figures standing atop a map of the Czech Republic, with a dynamic water mechanism that makes it appear as though they are urinating onto the country.
The figures' pelvises and hips move, creating a whimsical, if not irreverent, display as they "write" quotes from famous Prague residents with their streams. You can also have some of your own words written if you send a text message to a special number (listed by the sculpture).
While the statue's playful nature often elicits chuckles from passersby, it's also an invitation to reflect on the deeper commentary Černý may be making about the nation's political and cultural landscape.
39) Zámecké Schody: Climb Castle Stairs
Connecting the Lesser Town (Malá Strana) with Prague Castle, Castle Stairs, offers visitors a step-by-step immersion into the city's majestic history and architecture. As you ascend these ancient stone steps, you're treated to unfolding panoramas of Prague's iconic red rooftops, the serpentine Vltava River, and the city's many spires.
The staircase not only provides a direct route to the Castle but also stands as a testament to centuries of history, having witnessed countless footsteps of monarchs, guards, and commoners.
40) Explore Paternosters
The Czech Technical University in Prague (ČVUT) offers visitors and students an intriguing mechanical adventure in the form of its paternosters. These continuously moving elevators, reminiscent of a bygone era, consist of a chain of open compartments that move slowly in a loop without stopping, allowing passengers to hop on and off at their desired floor. A rarity in modern buildings due to safety standards, the paternosters at the Czech Technical University provide a unique blend of history and engineering marvels.
Good thing is that you don't need to visit directly ČVUT because there are more than 30 of them in Prague. The most famous one is in Prague City Hall (Mariánské náměstí 2).
41) Emmaus Monastery (Emauzský klášter)
The Emmaus Monastery is a historic and serene sanctuary in Prague, offering a glimpse into the city's religious heritage. Founded in the 14th century, the monastery features elegant Baroque architecture and a tranquil courtyard. While some areas may require an entrance fee, the exterior and courtyard are accessible for free. It's a place to appreciate the architectural beauty, seek a moment of contemplation, and delve into the rich spiritual history of Prague.
42) Nostitz Palace (Nostický palác): Enjoy the exterior of this palace
Nostitz Palace is an architectural gem in Prague that invites visitors to appreciate its exterior. The large Baroque palace near Kampa was built between 1658 and 1660 and was owned by the noble Nostic family until 1945. Nowadays the palace is the seat of the Ministry of Culture of the Czech Republic and is accessible only during special occasions.
43) Church of Our Lady of the Snows: Visit this beautiful church
The Church of Our Lady of the Snows, or Kostel Panny Marie Sněžné, is a stunning place of worship that beckons visitors to explore its beautiful interior. Located near Wenceslas Square, the church's ornate decor, intricate altars, and captivating frescoes make it a sight to behold. Actually, you can find there the highest column altar in Prague. There are regular roman catholic masses every day.
44) Vinohrady District: Walk through this picturesque neighborhood
The Vinohrady District is a picturesque neighborhood in Prague that invites visitors to take a leisurely stroll and discover its charms. Take a chance to walk through this delightful district, characterized by tree-lined avenues, elegant Art Nouveau architecture, and a vibrant local atmosphere.
Vinohrady is known for its peaceful parks, inviting cafes, and diverse culinary scene. Whether you're exploring the neighborhood's green spaces, admiring its architectural heritage, or savoring a cup of coffee at a neighborhood cafe, Vinohrady offers a relaxed and authentic Prague experience away from the tourist areas.
45) Church of St. Cyril and Methodius: Learn about Operation Anthropoid
The Church of St. Cyril and Methodius offers the opportunity to learn about WWII Operation Anthropoid. This church once served as a refuge for Czechoslovak paratroopers who carried out the daring assassination of Reinhard Heydrich (a high-ranking Nazi official).
You can explore the church's interior, where a memorial now stands in their honor. It's a place to reflect on the courage and sacrifice of those who fought against oppression, adding depth to your understanding of Czech history.
46) Vítkov Hill: Visit the National Memorial
Vítkov Hill is a site of national importance, housing the National Monument. The memorial building on top of Vítkov Hill was built between the years 1928 and 1938 in honor of the Czechoslovak legionaries. It's also home to the gigantic equestrian statue of Jan Žižka, a legendary Czech military leader.
47) Břevnov Monastery: Explore this ancient monastery
Břevnov Monastery is a centuries-old monastery, which dates back to the 10th century. The complex features a stunning Baroque Basilica, tranquil courtyards, and a picturesque garden.
While entrance to certain areas may require a fee, the exterior and the peaceful ambiance of the monastery are equally captivating. Břevnov Monastery provides a glimpse into Prague's religious heritage.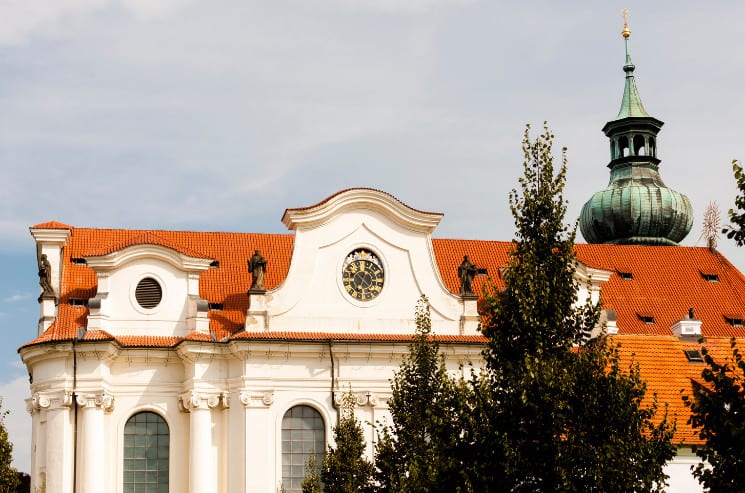 48) Cubist Lamp Post: See this unique piece of art
The Cubist Lamp Post is a unique piece of art and architecture that adds a touch of artistic flair to Prague's streets. Located near the House of the Black Madonna in Prague's Old Town, the lamp post exemplifies the Cubist movement's geometric shapes and artistic vision. It's a small yet intriguing artistic detail that enriches the city's streetscape.
49) Monument to the Victims of Communism: Learn about Czech history
The Monument to the Victims of Communism is a poignant reminder of Czech history and the struggle against oppression. Situated on the slopes of Petřín Hill, the monument consists of a series of haunting bronze figures descending a flight of stairs. It serves as a powerful tribute to those who suffered under communist rule and a symbol of the nation's resilience.
50) Kinský Garden: Explore this beautiful park near Petřín Hill
Kinský Garden is a charming park located near Petřín Hill, offering visitors the chance to explore its beautiful surroundings – green space, complete with manicured lawns, tree-lined paths, and scenic views. The garden's serene ambiance makes it a perfect spot for a leisurely stroll, a family picnic, or simply a moment of relaxation. Kinský Garden is a tranquil escape from the city's bustle, providing a peaceful retreat within Prague's urban landscape.
51) Go for a walk in Divoká Šárka Nature Reserve
Divoká Šárka offers a natural escape on the outskirts of Prague, providing an opportunity to immerse yourself in the beauty of this little "wilderness". Nestled in the Šárka Valley, this protected area features lush forests, meandering streams, and rugged cliffs. A network of walking trails allows outdoor enthusiasts to discover an untamed side of Prague, an ideal place for a peaceful retreat from the urban environment.
52) Vyšehrad Cemetery: Visit the final resting place of famous Czechs
Vyšehrad Cemetery is a resting place for famous Czech figures, including composers, writers, and artists, are interred. Set within the historic Vyšehrad fortress, the cemetery offers a tranquil ambiance for contemplation and remembrance. It's a place to pay your respects to influential individuals who have shaped Czech culture and history.
53) Prague Waterfront: Relax along the Vltava River
Náplavka Riverbank is a beloved spot along the Vltava River where visitors can immerse themselves in the tranquil waterside atmosphere. It offers an opportunity to relax along the riverbank, whether you're sitting on the embankment, watching boats sail by, or simply savoring the picturesque views. Náplavka is renowned for its vibrant events, including riverside markets and cultural festivals, making it an ideal place to embrace Prague's lively spirit and unwind in a scenic setting.
54) Church of the Most Sacred Heart of Our Lord: Visit this modernist church
The Church of the Most Sacred Heart of Our Lord (Kostel Nejsvětějšího Srdce Páně) is a striking example of modernist architecture in Prague. The main highlight is the chance to visit this distinctive church, known for its unique design characterized by clean lines and geometric shapes.
While exploring its interior may have specific requirements, the church's exterior is an intriguing architectural marvel that adds a contemporary touch to Prague's diverse architectural heritage.
55) New Jewish Cemetery: Explore this peaceful cemetery
The New Jewish Cemetery is the final resting place of notable figures from Prague's Jewish community. Located in Žižkov, the cemetery provides insight into the history and heritage of Prague's Jewish population. It's a place for reflection, remembrance, and an appreciation of the city's diverse cultural tapestry.
56) Park of Brutalist Miniatures by Kryštof Kintera in Klárov
Klárov Park, nestled near Prague Castle, offers a picturesque green space for relaxation and leisure. You can also discover Brutalist Miniatures by Kryštof Kintera. You may be surprised to learn that all the models are already broken – and it's not the vandals' fault this time – Kintera himself wanted to draw attention to the fragility of architecture by targeted destruction. The miniatures are interestingly illuminated during the evening.
57) St. George's Basilica (Bazilika sv. Jiří): Visit this Romanesque church
St. George's Basilica, nestled within the Prague Castle complex, is a remarkable example of Romanesque architecture and a place of historical and spiritual significance. Its austere yet elegant interior features stunning Romanesque elements and historical artifacts.
While some sections may require an entrance fee, the exterior is equally captivating.
58) Golden Lane (Zlatá ulička)
Golden Lane is one of the most picturesque and historic streets in Prague, Czech Republic, located within the Prague Castle complex. Dating back to the 16th century, this small and charming cobblestone lane is lined with colorful, miniature houses, each possessing its own unique history and character. Over the centuries, Golden Lane has been home to various residents, from goldsmiths to writers, including the famous Franz Kafka.
59) Provocative Piece "Brown-nosers"
Located in the courtyard of the Futura Gallery in Smíchov (Holečkova Street), this sculpture by David Černý is a provocative piece that challenges conventional norms and sparks debate. As a local, I find it to be a compelling example of Prague's edgy contemporary art scene.
The sculpture features a giant lower human torso where visitors can climb a ladder and stick their heads into the rear end to view a video playing inside. It's a bold statement on political sycophancy and the nature of power. The experience is as unsettling as it is thought-provoking.
60) Signal Festival: The Festival of Light
Signal Festival Praha lights up the Czech capital in a blaze of innovative art and technological brilliance. As one of the most significant and anticipated cultural events in the Czech Republic, this annual festival transforms Prague into an immersive canvas for international and local artists to showcase their work in light art and emerging technologies.
From luminous sculptures to interactive installations and thought-provoking projections, the Signal Festival is more than just a display of lights; it is a celebration of creativity at the intersection of art, technology, and the urban environment. Find out more at Signal Festival's official website.
61) The Aviation Museum Kbely
Founded in 1968 in the historic area of Prague-Kbely, the first military airfield established after Czechoslovakia's creation in 1918, the museum stands as one of Europe's largest air museums, owing to the quantity and quality of its collections. It houses 275 aircraft, with 85 on public display, and features many unique world-class exhibits, including one-of-a-kind Czech plane constructions and both types of the Me 262 Schwalbe.
The museum focuses primarily on the history of Czech and Czechoslovak aviation, particularly the military sector, but also features significant foreign aircraft and a range of aviation-related artifacts, including engines, uniforms, and marks of distinction.
The museum is open from May till October, Tuesday to Sunday from 10 AM to 6 PM Admission is free of charge.
To get to the museum take bus No. 185, 259, 280, 302, 375, 376 – 10 minutes from Letňany underground station (bus stop Letecké museum).
62) The Army Museum Žižkov
The Army Museum Žižkov features an extensive exposition, divided into seven main sections representing different historical periods of Czech military history, from the earliest times to the present. The museum, housing over seven thousand exhibits from the Military Historical Institute Prague, presents them across four floors and numerous showcases and halls, with some featuring mezzanines. The exhibit presentation, including lighting, utilizes the latest trends and advanced technology. A highlight includes "objects with a story," giving insight into the object's history and related individuals. Many exhibits also feature QR codes for visitors to access detailed information.
The museum is open every day except Monday from 10 AM to 6 PM.
63) The Gas Industry Museum
The Gas Industry Museum, located in Prague 4 – Michle, was opened in 1999 as the first museum of its kind in the Czech Republic. Visitors can explore the history and development of the global and Czech gas industry from its inception to the present day. The museum features period gas appliances, models of old production facilities, gasometers, and the construction of gas pipelines, among others. A reconstructed model of the Michle gas plant showcases its appearance in 1937, highlighting its historical connection to the city of Prague.
The date of the museum visit must be arranged in advance by calling +420 724 104 874 or by email: [email protected]. More information at PPAS.cz
64) Visit the Prague Infant Jesus: The famous Pražské Jezulátko
The Church of Our Lady of Victory is located in the Lesser Town. It is a valuable Baroque monument and thanks to the statue of the Little Jesus of Prague an important place of pilgrimage. It is open every day and regularly hosts services in five languages and interesting events for the public.
Little Jesus of Prague is more than 400 years old. For believers from all over the world, the statue of the Child Jesus is a reminder of the Incarnation of God, spiritual childhood, and the dignity of Christ and our own humanity.
65) Botanical Garden of Charles University
The Botanical Garden of Charles University serves as an oasis of tranquility and an embodiment of natural beauty and educational richness. Established by the university, this botanical garden is not just a showcase of diverse plant life but also a hub for scientific research, conservation, and environmental education. More information here.
66) The PRE Gallery and Museum (Power Industry)
The Technical and Documentary Museum of Prague Power Industry maps the rich history of electricity production, distribution and distribution from the beginning of the 20th century to the present day.
In the extensive exhibition on an area of almost 800 m2, fans from the professional and general public will find everything from very high, high and low voltage equipment to documents documenting the history of the electrification of Prague.
The PRE Gallery started its activity in 1998 in the operational building of the Prague Energy headquarters at 1492/4 Na Hroud Street. During its existence, more than one hundred and twenty interesting exhibitions of artists of renowned names and emerging talents have been held in the representative premises of the gallery.
The gallery is open on weekdays from 12 noon to 6 pm. The museum operates TUESDAY and THURSDAY from 8 am to 3 pm (always by appointment). More details here.
Conclusion
In conclusion, Prague's rich mix of history, art, culture, and natural beauty offers an abundance of experiences that don't require a single koruna to enjoy. The city generously presents dozens of free activities that range from exploring historical buildings, and tranquil parks to enjoying vibrant street performances and captivating art galleries.
So, if you want Prague can be a perfect budget destination for you!
Enjoy your visit and see you later!
Pin places you can visit in Prague for free for later or for your friends:
Did this post about Free things to do in Prague help you? Share it with your friends! It can help the