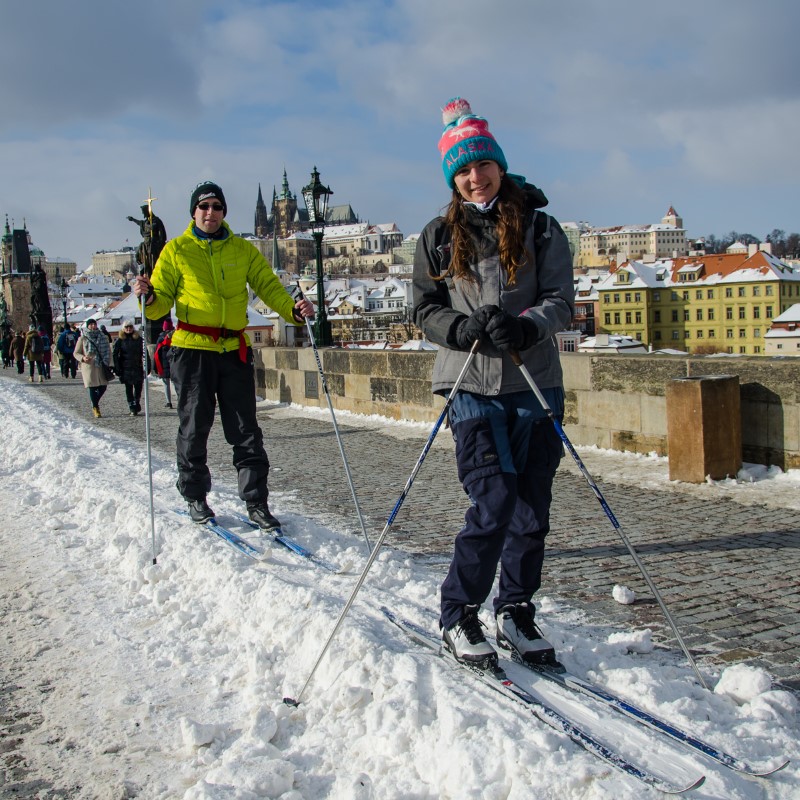 Written by local experts Adriana & Matěj
Adriana and Matěj Halouskovi are travel bloggers behind the successful blog Czech the World.
Matěj was born in Prague and has lived here his entire life and Adriana moved here 6 years ago.
We have traveled to more than 60 countries, but if we could tell you what place we know the most, it is our city.
We have prepared for you the ultimate collection of Prague quotes.
We have divided these quotes into several categories – catchy, creative, funny, clever, unique, cute, romantic, vintage, happy, inspiring, and more…
You can just directly to your desired category:
Catchy Prague Quotes
"Prague – The City of a Hundred Spires!"
"Golden Prague, Timeless Charm!"
"Czech into Magic – Welcome to Prague!"
"Prague – Where Fairy Tales Come to Life!"
"Spires, Squares, and Czech Delights in Prague!"
"Prague – A Symphony of Spires!"
"Cobbled Charm and Castle Dreams in Prague!"
"Prague – The Heart of Europe's Beauty!"
"Golden Moments in the Golden City of Prague!"
"Prague – A Bohemian Rhapsody of History!"
"Czech-Mate! Falling in Love with Prague!"
"Prague – A Canvas of Centuries and Spires!"
"Unlock the Magic – Prague Awaits!"
"Prague – Where Every Street Tells a Story!"
"Spiraling through Time in Enchanting Prague!"
"Prague – A Melody of Mysteries and Marvels!"
"Czech into Elegance – Prague's Timeless Allure!"
"Prague – The Golden City of Wonders!"
"Spires, Stories, and the Spirit of Prague!"
"Prague – A Journey through History's Charm!"
Creative Prague Quotes
"Prague – Painting Stories on a Canvas of Spires!"
"Czech into Imagination – The Creative Core of Prague!"
"Prague – Crafting Tales in the Shadows of Spires!"
"Golden Visions in the Artistic Heart of Prague!"
"Prague – A Creative Confluence of Time and Tales!"
"Spires as Muses – Prague's Artistic Pulse!"
"Prague – Where Creativity Meets Cobblestones!"
"Czech Palette – The Artistic Colors of Prague!"
"Prague – A Bohemian Canvas of Creative Dreams!"
"Creative Whispers in the Wind of Prague's Spires!"
"Prague – Crafting History with a Creative Touch!"
"Artistic Echoes in the Lanes of Enchanting Prague!"
"Prague – A Creative Symphony of Spires and Squares!"
"Czech into Art – The Creative Soul of Prague!"
"Prague – Where Every Spires Inspires Creativity!"
"Creative Rhapsody in the Bohemian Heart of Prague!"
"Prague – A Tapestry of Tales and Creative Trails!"
"Artistic Prague – A Canvas of Charm and Creativity!"
"Creative Prague – Where Every Corner Crafts a Tale!"
"Prague – The Creative Heartbeat of Bohemia!"
Funny Prague Quotes
"Czech-ing my Balance after too many Trdelníks in Prague!"
"Prague-lem? Never heard of her!"
"Feeling Un-spired? Not in Prague!"
"Czech Please, I'm on Prague Time!"
"Prague is in Czech, but I'm in Check!"
"Got Prague-blems? Just Add More Goulash!"
"Czech Mate! I've Found the Best Beer in Prague!"
"Spires, Squires, and Flat Tires – Just Prague Things!"
"Prague – Where Every Castle has a Ghost Story, Probably!"
"Czech-ing into Laughter in the Streets of Prague!"
"Lost in Prague and Blaming the Goblins!"
"Feeling Bohemian and a Bit Goulash in Prague!"
"Prague – Where the Beer is Cheaper than Water!"
"Czech Me Out – Turning Prague-ressive!"
"Sipping Pilsner and Plotting Castle Heists in Prague!"
"Prague – Where Gargoyles are my Only Prague-lem!"
"Czech-ing the Time, but Prague Doesn't Czech Out!"
"Feeling Spirited Away by Prague's Goblins!"
"Prague – Where Every Ghost has a Tale to Tell!"
"Czech and Balance – It's All About Prague!"
Clever Prague Quotes
"Prague – Where History Checks In, but Never Checks Out!"
"Czech into the Past – Prague's Timeless Appeal!"
"Prague – A City of Spires, Desires, and Shires!"
"Czech-Mate! Unraveling Prague's Royal Charm!"
"Prague – Where Every Cobblestone Has a Story to Tell!"
"Spiraling through Time in the Heart of Prague!"
"Prague – A Bohemian Rhapsody of Tales and Trails!"
"Czech into Elegance – Prague's Royal Legacy!"
"Prague – Crafting Histories in the Shadows of Spires!"
"Unlocking the Mysteries of Prague – One Spire at a Time!"
"Prague – A Symphony of Spires, Squares, and Secrets!"
"Czech-ing the Boxes of Beauty, History, and Charm in Prague!"
"Prague – Where Fairy Tales are More than Just Bedtime Stories!"
"Spirited Away by the Enchanting Charm of Prague!"
"Prague – A Timeless Tapestry of Tales, Turrets, and Traditions!"
"Czech into Magic – The Enchanting Allure of Prague Awaits!"
"Prague – Where Every Sunset Paints a Picture of the Past!"
"Czech-Mate! Falling for the Timeless Beauty of Prague!"
"Spires, Stories, and the Spirit of Prague – A Journey through Time!"
"Prague – A City Where Every Lane Leads to a Legacy!"
Unique Prague Quotes
"Prague – A Unique Symphony of Spires and Stories!"
"Czech into Uniqueness – The Distinct Charm of Prague!"
"Prague – Where Every Cobblestone is a Unique Chronicle!"
"Unique Tales from the Heart of Enchanting Prague!"
"Prague – A Unique Canvas of History, Mystery, and Beauty!"
"Czech-Mate! Discovering the Unique Allure of Prague!"
"Prague – A City of Unique Charm and Bohemian Beauty!"
"Unique Whispers of History in the Wind of Prague's Spires!"
"Prague – Crafting Unique Tales in the Shadows of Time!"
"Czech into a World of Unique Wonders – Welcome to Prague!"
"Prague – A Unique Melody of Mysteries and Marvels!"
"Unique Trails and Timeless Tales in the City of Prague!"
"Prague – A Unique Chapter in the Book of Bohemia!"
"Czech-ing into the Unique Rhythm of Prague's Heartbeat!"
"Unique Prague – Where Every Spires Tells a Different Tale!"
"Discovering the Unique Rhapsody of Prague's Bohemian Heart!"
"Prague – A Tapestry of Unique Tales and Timeless Trails!"
"Unique and Unforgettable – That's the Magic of Prague!"
"Prague – A City Where Uniqueness is Carved in Stone!"
"Unique Vibes and Timeless Scribes in the City of Prague!"
Memorable Prague Quotes
"Prague – Crafting Memories in the City of Spires!"
"Memorable Moments under the Golden Glow of Prague!"
"Prague – A City Where Every Corner is a Memory!"
"Czech into Memories – The Timeless Charm of Prague!"
"Prague – A Memorable Symphony of History and Beauty!"
"Czech-Mate! Creating Memories in Enchanting Prague!"
"Memorable Trails and Fairy Tales in the Heart of Prague!"
"Prague – A Canvas of Memorable Tales and Timeless Beauty!"
"Crafting Memorable Stories in the Shadows of Prague's Spires!"
"Prague – A City of Memories, Mysteries, and Marvels!"
"Memorable Whispers in the Wind of Prague's Golden Spires!"
"Prague – Where Every Sunset is a Memorable Masterpiece!"
"Czech-ing into a World of Memories in Magical Prague!"
"Memorable Prague – A Tapestry of Tales and Traditions!"
"Prague – A Memorable Rhapsody of Bohemian Beauty!"
"Creating Memories in the Cobbled Streets of Enchanting Prague!"
"Prague – A City Where Every Memory is a Treasure!"
"Memorable and Magical – That's the Essence of Prague!"
"Prague – Crafting Memorable Moments in the Heart of Bohemia!"
"Memorable Vibes and Historical Scribes in the City of Prague!"
Happy Prague Quotes
"Prague – Where Happiness is Carved in Stone and Story!"
"Czech into Joy – The Happy Heart of Prague Awaits!"
"Prague – A Symphony of Spires and Smiles!"
"Happy Trails and Fairy Tales in Enchanting Prague!"
"Prague – A Canvas of Joy, Charm, and History!"
"Czech-Mate! Finding Happiness in the Lanes of Prague!"
"Happy Vibes and High Fives in the City of Prague!"
"Prague – A Happy Chapter in the Book of Bohemia!"
"Czech-ing into Happiness in the Golden City of Prague!"
"Prague – Where Every Sunset Brings Joy and Wonder!"
"Happy Whispers and Laughter in the Wind of Prague's Spires!"
"Prague – A City of Happy Moments and Timeless Memories!"
"Finding Happiness in the Cobbled Streets of Magical Prague!"
"Prague – A Happy Melody of Mysteries and Marvels!"
"Happy Prague – A Tapestry of Joyful Tales and Traditions!"
"Czech into Delight – The Happy Rhythm of Prague's Heartbeat!"
"Prague – Crafting Happy Stories in the Shadows of Time!"
"Happy and Harmonious – That's the Spirit of Prague!"
"Prague – A City Where Happiness is a Historical Treasure!"
"Happy Tales and Castle Trails in the Joyful City of Prague!"
Inspiring Prague Quotes
"Prague – An Inspiring Symphony of History and Beauty!"
"Czech into Inspiration – The Spirit of Prague Calls!"
"Prague – Where Every Spire Inspires a Tale!"
"Inspiring Trails and Timeless Tales in Magical Prague!"
"Prague – A Canvas of Inspiration, Charm, and Mystery!"
"Czech-Mate! Inspired by the Enchanting Beauty of Prague!"
"Inspiring Vibes and Historical Scribes in Prague!"
"Prague – An Inspiring Chapter in the Book of Wonders!"
"Czech-ing into the Inspiring Rhythm of Prague's Heart!"
"Prague – Where Inspiration is Carved in Stone and Story!"
"Inspiring Whispers in the Wind of Prague's Golden Spires!"
"Prague – A City of Inspiring Moments and Marvels!"
"Finding Inspiration in the Cobbled Streets of Prague!"
"Prague – An Inspiring Melody of Mysteries and Traditions!"
"Inspiring Prague – A Tapestry of Tales and Timeless Beauty!"
"Czech into Wonder – The Inspiring Allure of Prague Awaits!"
"Prague – Crafting Inspiring Stories in the Shadows of Spires!"
"Inspiring and Enchanting – That's the Magic of Prague!"
"Prague – A City Where Every Corner Inspires a Dream!"
"Inspiring Tales and Castle Scales in the Heart of Prague!"
Romantic Prague Quotes
"Prague – A Romantic Symphony of Spires and Desires!"
"Czech into Love – The Romantic Charm of Prague!"
"Prague – Where Every Sunset is a Love Story!"
"Romantic Trails and Fairy Tales in the Heart of Prague!"
"Prague – A Canvas of Love, Beauty, and Bohemian Dreams!"
"Czech-Mate! Falling in Love with the Magic of Prague!"
"Romantic Vibes and Castle Highs in Enchanting Prague!"
"Prague – A Romantic Chapter in the Book of Love!"
"Czech-ing into Romance in the Golden City of Prague!"
"Prague – Where Love is Carved in Stone and Story!"
"Romantic Whispers in the Wind of Prague's Spires!"
"Prague – A City of Romantic Moments and Timeless Love!"
"Finding Romance in the Cobbled Streets of Prague!"
"Prague – A Romantic Melody of Mysteries and Marvels!"
"Romantic Prague – A Tapestry of Love Tales and Traditions!"
"Czech into Passion – The Romantic Rhythm of Prague's Heart!"
"Prague – Crafting Romantic Stories in the Shadows of Time!"
"Romantic and Enchanting – That's the Essence of Prague!"
"Prague – A City Where Love is a Historical Treasure!"
"Romantic Tales and Love Scales in the City of Prague!"
Cool Prague Quotes
"Prague – The Cool Capital of Castles and Chronicles!"
"Czech into Coolness – Prague's Vibes Await!"
"Prague – A Symphony of Spires and Style!"
"Cool Trails and Bohemian Tales in Prague!"
"Prague – A Canvas of Cool, Charm, and Creativity!"
"Czech-Mate! Feeling the Cool Pulse of Prague!"
"Cool Vibes and High Fives in the Streets of Prague!"
"Prague – A Cool Chapter in the Book of Bohemia!"
"Czech-ing into the Cool Rhythm of Prague's Heartbeat!"
"Prague – Where Coolness is Carved in Stone and Story!"
"Cool Whispers in the Wind of Prague's Golden Spires!"
"Prague – A City of Cool Moments and Timeless Memories!"
"Finding Coolness in the Cobbled Streets of Prague!"
"Prague – A Cool Melody of Mysteries and Marvels!"
"Cool Prague – A Tapestry of Trendy Tales and Traditions!"
"Czech into Style – The Cool Essence of Prague Awaits!"
"Prague – Crafting Cool Stories in the Shadows of Spires!"
"Cool and Creative – That's the Spirit of Prague!"
"Prague – A City Where Coolness is a Historical Treasure!"
"Cool Tales and Castle Trails in the Stylish City of Prague!"
Cute Prague Quotes
"Prague – A Cute Symphony of Spires and Smiles!"
"Czech into Cuteness – The Adorable Charm of Prague!"
"Prague – Where Every Cobblestone is a Cute Chronicle!"
"Cute Trails and Fairy Tales in the Heart of Prague!"
"Prague – A Canvas of Cuteness, Charm, and History!"
"Czech-Mate! Falling for the Cute Vibes of Prague!"
"Cute Vibes and Castle Highs in the City of Prague!"
"Prague – A Cute Chapter in the Book of Bohemia!"
"Czech-ing into the Cute Rhythm of Prague's Heartbeat!"
"Prague – Where Cuteness is Carved in Stone and Story!"
"Cute Whispers in the Wind of Prague's Golden Spires!"
"Prague – A City of Cute Moments and Timeless Memories!"
"Finding Cuteness in the Cobbled Streets of Prague!"
"Prague – A Cute Melody of Mysteries and Marvels!"
"Cute Prague – A Tapestry of Adorable Tales and Traditions!"
"Czech into Delight – The Cute Essence of Prague Awaits!"
"Prague – Crafting Cute Stories in the Shadows of Spires!"
"Cute and Charming – That's the Magic of Prague!"
"Prague – A City Where Cuteness is a Historical Treasure!"
"Cute Tales and Castle Scales in the Adorable City of Prague!"
Trendy Prague Quotes
"Prague – The Trendy Tapestry of Time and Tales!"
"Czech into Trendiness – Prague's Stylish Vibes Await!"
"Prague – A Symphony of Spires and Style!"
"Trendy Trails and Bohemian Tales in the Heart of Prague!"
"Prague – A Canvas of Trendiness, Charm, and Creativity!"
"Czech-Mate! Feeling the Trendy Pulse of Prague!"
"Trendy Vibes and High Fives in the Streets of Prague!"
"Prague – A Trendy Chapter in the Book of Bohemia!"
"Czech-ing into the Trendy Rhythm of Prague's Heartbeat!"
"Prague – Where Trendiness is Carved in Stone and Story!"
"Trendy Whispers in the Wind of Prague's Golden Spires!"
"Prague – A City of Trendy Moments and Timeless Memories!"
"Finding Trendiness in the Cobbled Streets of Prague!"
"Prague – A Trendy Melody of Mysteries and Marvels!"
"Trendy Prague – A Tapestry of Stylish Tales and Traditions!"
"Czech into Style – The Trendy Essence of Prague Awaits!"
"Prague – Crafting Trendy Stories in the Shadows of Spires!"
"Trendy and Timeless – That's the Spirit of Prague!"
"Prague – A City Where Trendiness is a Historical Treasure!"
"Trendy Tales and Castle Trails in the Stylish City of Prague!"
Powerful Prague Quotes
"Prague – A Powerful Symphony of Spires and Stories!"
"Czech into Strength – The Powerful Charm of Prague!"
"Prague – Where Every Castle Holds Powerful Tales!"
"Powerful Trails and Historical Tales in Prague!"
"Prague – A Canvas of Power, Beauty, and Legacy!"
"Czech-Mate! Embracing the Powerful Spirit of Prague!"
"Powerful Vibes and Castle Highs in the City of Prague!"
"Prague – A Powerful Chapter in the Book of History!"
"Czech-ing into the Powerful Rhythm of Prague's Heartbeat!"
"Prague – Where Power is Carved in Stone and Story!"
"Powerful Whispers in the Wind of Prague's Golden Spires!"
"Prague – A City of Powerful Moments and Timeless Legacy!"
"Finding Power in the Cobbled Streets of Historical Prague!"
"Prague – A Powerful Melody of Mysteries and Marvels!"
"Powerful Prague – A Tapestry of Strong Tales and Traditions!"
"Czech into Majesty – The Powerful Essence of Prague Awaits!"
"Prague – Crafting Powerful Stories in the Shadows of Spires!"
"Powerful and Majestic – That's the Essence of Prague!"
"Prague – A City Where Power is a Historical Treasure!"
"Powerful Tales and Castle Scales in the Majestic City of Prague!"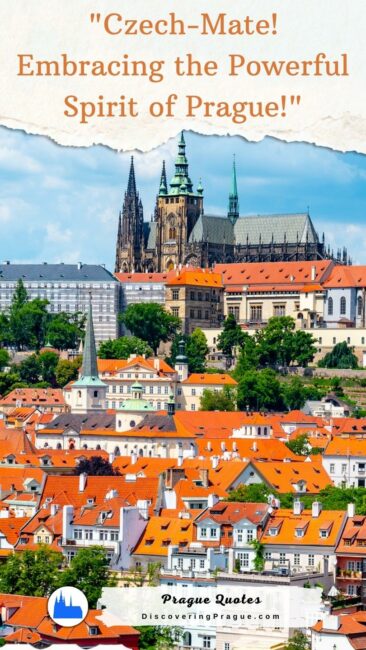 Philosophical Prague Quotes
"Prague – A Philosophical Journey through Spires and Squares!"
"Czech into Wisdom – The Philosophical Charm of Prague!"
"Prague – Where Every Corner Holds Philosophical Thoughts!"
"Philosophical Trails and Timeless Tales in Prague!"
"Prague – A Canvas of Philosophy, Beauty, and Mystery!"
"Czech-Mate! Pondering the Philosophical Beauty of Prague!"
"Philosophical Vibes and Historical Scribes in Prague!"
"Prague – A Philosophical Chapter in the Book of Life!"
"Czech-ing into the Philosophical Rhythm of Prague's Heart!"
"Prague – Where Philosophy is Carved in Stone and Story!"
"Philosophical Whispers in the Wind of Prague's Spires!"
"Prague – A City of Philosophical Moments and Timeless Wisdom!"
"Finding Philosophy in the Cobbled Streets of Enchanting Prague!"
"Prague – A Philosophical Melody of Mysteries and Insights!"
"Philosophical Prague – A Tapestry of Wise Tales and Traditions!"
"Czech into Thought – The Philosophical Essence of Prague Awaits!"
"Prague – Crafting Philosophical Stories in the Shadows of Time!"
"Philosophical and Profound – That's the Spirit of Prague!"
"Prague – A City Where Wisdom is a Historical Treasure!"
"Philosophical Tales and Thoughtful Trails in the City of Prague!"
Joyful Prague Quotes
"Prague – A Joyful Symphony of Spires and Smiles!"
"Czech into Joy – The Joyful Heart of Prague Awaits!"
"Prague – Where Every Sunset Brings Joy and Wonder!"
"Joyful Trails and Fairy Tales in Enchanting Prague!"
"Prague – A Canvas of Joy, Charm, and History!"
"Czech-Mate! Finding Joy in the Lanes of Prague!"
"Joyful Vibes and Castle Highs in the City of Prague!"
"Prague – A Joyful Chapter in the Book of Bohemia!"
"Czech-ing into the Joyful Rhythm of Prague's Heartbeat!"
"Prague – Where Joy is Carved in Stone and Story!"
"Joyful Whispers in the Wind of Prague's Golden Spires!"
"Prague – A City of Joyful Moments and Timeless Memories!"
"Finding Joy in the Cobbled Streets of Magical Prague!"
"Prague – A Joyful Melody of Mysteries and Marvels!"
"Joyful Prague – A Tapestry of Happy Tales and Traditions!"
"Czech into Delight – The Joyful Essence of Prague Awaits!"
"Prague – Crafting Joyful Stories in the Shadows of Spires!"
"Joyful and Enchanting – That's the Magic of Prague!"
"Prague – A City Where Joy is a Historical Treasure!"
"Joyful Tales and Castle Trails in the Delightful City of Prague!"
Vintage Prague Quotes
"Prague – A Vintage Symphony of Spires and Stories!"
"Czech into the Past – The Vintage Charm of Prague!"
"Prague – Where Every Corner Holds Vintage Tales!"
"Vintage Trails and Historical Tales in Prague!"
"Prague – A Canvas of Vintage Beauty and Legacy!"
"Czech-Mate! Embracing the Vintage Spirit of Prague!"
"Vintage Vibes and Castle Highs in the City of Prague!"
"Prague – A Vintage Chapter in the Book of History!"
"Czech-ing into the Vintage Rhythm of Prague's Heartbeat!"
"Prague – Where Vintage is Carved in Stone and Story!"
"Vintage Whispers in the Wind of Prague's Golden Spires!"
"Prague – A City of Vintage Moments and Timeless Legacy!"
"Finding Vintage Charm in the Cobbled Streets of Prague!"
"Prague – A Vintage Melody of Mysteries and Marvels!"
"Vintage Prague – A Tapestry of Old Tales and Traditions!"
"Czech into Elegance – The Vintage Essence of Prague Awaits!"
"Prague – Crafting Vintage Stories in the Shadows of Spires!"
"Vintage and Timeless – That's the Essence of Prague!"
"Prague – A City Where Vintage is a Historical Treasure!"
"Vintage Tales and Castle Scales in the Historical City of Prague!"
Aesthetic Prague Quotes
"Prague – An Aesthetic Symphony of Spires and Squares!"
"Czech into Beauty – The Aesthetic Charm of Prague!"
"Prague – Where Every View is an Aesthetic Masterpiece!"
"Aesthetic Trails and Artistic Tales in Prague!"
"Prague – A Canvas of Aesthetic Elegance and Mystery!"
"Czech-Mate! Captivated by the Aesthetic Allure of Prague!"
"Aesthetic Vibes and Artistic Scribes in the City of Prague!"
"Prague – An Aesthetic Chapter in the Book of Beauty!"
"Czech-ing into the Aesthetic Rhythm of Prague's Heartbeat!"
"Prague – Where Aesthetics are Carved in Stone and Story!"
"Aesthetic Whispers in the Wind of Prague's Golden Spires!"
"Prague – A City of Aesthetic Moments and Timeless Elegance!"
"Finding Aesthetic Beauty in the Cobbled Streets of Prague!"
"Prague – An Aesthetic Melody of Mysteries and Marvels!"
"Aesthetic Prague – A Tapestry of Artistic Tales and Traditions!"
"Czech into Elegance – The Aesthetic Essence of Prague Awaits!"
"Prague – Crafting Aesthetic Stories in the Shadows of Spires!"
"Aesthetic and Enchanting – That's the Magic of Prague!"
"Prague – A City Where Aesthetics are a Historical Treasure!"
"Aesthetic Tales and Artistic Trails in the Beautiful City of Prague!"
Classy Prague Quotes
"Prague – A Classy Symphony of Spires and Elegance!"
"Czech into Elegance – The Classy Charm of Prague!"
"Prague – Where Every Castle Exudes Class and Grandeur!"
"Classy Trails and Royal Tales in the Heart of Prague!"
"Prague – A Canvas of Class, Beauty, and Legacy!"
"Czech-Mate! Embracing the Classy Spirit of Prague!"
"Classy Vibes and Castle Highs in the Elegant City of Prague!"
"Prague – A Classy Chapter in the Book of Elegance!"
"Czech-ing into the Classy Rhythm of Prague's Heartbeat!"
"Prague – Where Class is Carved in Stone and Story!"
"Classy Whispers in the Wind of Prague's Golden Spires!"
"Prague – A City of Classy Moments and Timeless Elegance!"
"Finding Class in the Cobbled Streets of Historical Prague!"
"Prague – A Classy Melody of Mysteries and Marvels!"
"Classy Prague – A Tapestry of Elegant Tales and Traditions!"
"Czech into Grandeur – The Classy Essence of Prague Awaits!"
"Prague – Crafting Classy Stories in the Shadows of Spires!"
"Classy and Majestic – That's the Essence of Prague!"
"Prague – A City Where Class is a Historical Treasure!"
"Classy Tales and Castle Scales in the Elegant City of Prague!"
Pin this for later or for your friends:
Unique Prague Quotes
Happy Prague Quotes
Did this post help you? Share it with your friends! It can help the