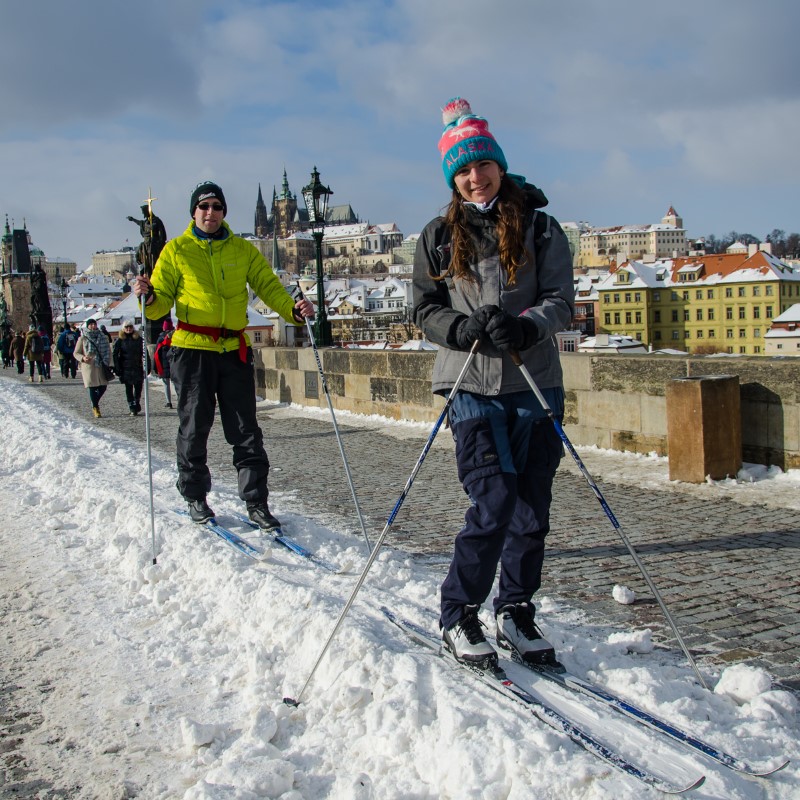 Written by local experts Adriana & Matěj
Adriana and Matěj Halouskovi are travel bloggers behind the successful blog Czech the World.
Matěj was born in Prague and has lived here his entire life and Adriana moved here 6 years ago.
We have traveled to more than 60 countries, but if we could tell you what place we know the most, it is our city.
Czech Goulash (Guláš) is one of the traditional Czech dishes and you are going to find it on the menu of the vast majority of restaurants in the Czech Republic. Czech Goulash is usually made with beef or pork and it's served with boiled or steamed bread dumplings. Across the country, there are many variations of Guláš, and different families have slightly different Czech Goulash recipe. Guláš is often garnished with slices of fresh onion and is typically accompanied by Czech beer. The most important ingredient is paprika.
Czech Goulash Recipe
Preparation time: 20 min.
Cooking time: 2 hours
Total time: 150 min.
Servings: 4
Czech Goulash Recipe – Ingredients
2 large onions, chopped finely
13 g salt
3 cloves of garlic, crushed
2 tbsp smooth flour and butter to prepare a roux
4 tbsp vegetable oil
2 tbsp marjoram
2 g black pepper
2 tbsp caraway seeds, crushed
600 g pork/beef cheek, chopped into bitesize pieces
4 tbsp sweet paprika
1 pickled red hot pepper, finely diced
Water to cover
1 onion to sprinkle goulash right before serving (optional)
Czech Goulash Recipe – Instructions
Heat the oil and brown the meat on all sides for a few minutes, then take it out (put aside), and fry the onions. When onions start to turn brown, add chili peppers, paprika, and caraway seeds. Allow the spices to blend through frying.

Add meat again with salt and black pepper. Now, it's time to add a roux (butter and flour fried together in an extra pan). Add garlic and cover with water.

Bring to a boil, then cover and simmer on low for about two hours. The sauce will gradually thicken and meat will become tender and fall apart. Once the sauce is thick and meat is tender, add marjoram. Now, the goulash is ready to serve.

Serve with bread dumplings (knedlíky) and sprinkle with freshly cut onion.
You can also check the video on how to prepare traditional Czech Goulash (Guláš):
Check out this video on how to prepare Czech dumplings which can't be omitted from traditional Czech Goulash:
If you are searching for more inspiration on Czech Goulash recipes, here are a few other variations of Czech Goulash from Prague's top chefs.
History of Goulash dish
Goulash is a common dish typical for Central Europe. Its origin traces back to the 9th century to stews eaten by Hungarian shepherds. In those days, the cooked and flavored meat was dried with, and packed into bags from sheep's stomachs, needing only water to make it into a meal. Earlier versions of goulash did not include paprika, as it was introduced to Europe in the 16th century.
Dobrou chuť! (Bon appetit in Czech)
Try also: Authentic Czech Bramboráky Recipe – Delicious Potatoe Pancakes
Are you visiting the Czech Republic? Check our Ultimate Insider's Guide to the Best Places to Visit in the Czech Republic.